Ulitsa Zodchego Rossi (Architect Rossi Street)
Ulitsa Zodchego Rossi was formerly known as Teatralnaya Ulitsa (Theatre Street), and runs from Ploshchad Ostrovskogo and the Alexandrinsky Theatre to Ploshchad Lomonosova, next to the Fontanka River. It received its current name in 1923, but whereas most of the topographical changes of the early Soviet period where purely propagandist, this had a more noble motive - to honor the designer of the street and much of the surrounding area, the great Italian architect and town planner Carlo Rossi, very probably the greatest architect ever to have worked in St. Petersburg. The street was designed by Rossi in the late 1820's and early 1830's. Ulitsa Zodchego Rossi and Ploschad Ostrovskogo (Ostrovsky Square) form a single harmonious ensemble built by the law of classical architectural proportions - "the Golden Ratio".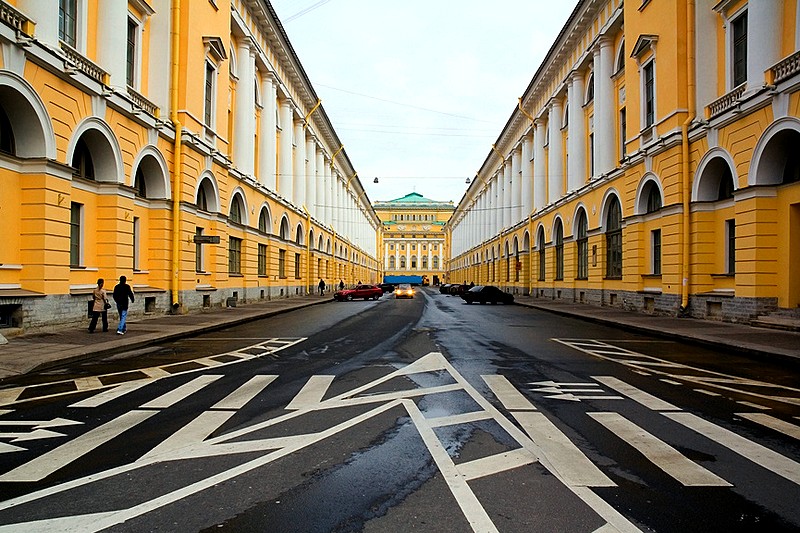 Golden Rule proportions of Ulitsa Zodchego Rossi (Architect Rossi Street)
At the end of the 18th century, the grounds of the Vorontsov Mansion and the Anichkov Palace bordered each other here. In the first quarter of the 19th century, the decision was made to reconstruct this part of St. Petersburg. Carlo Rossi, who had by then completed the Mikhailovsky Palace and Ploshchad Iskusstv, began work on the project in 1827. It took five years to complete. For this project on Teatrlanaya Ulitsa, Rossi turned to ancient architectural proportions. The street comprises two identical three-story buildings, their length - 220 meters, height - 22 meters, and the width of the street - also 22 meters. It is thus the most balanced street in the world. The view down the street closes magnificently with the Aleksandrinsky Theater.
The building facades are modest in contrast to the magnificent theater. The buildings are decorated with white Doric half-columns located between large arched windows. The lower floors of the building are adorned with impressive arches.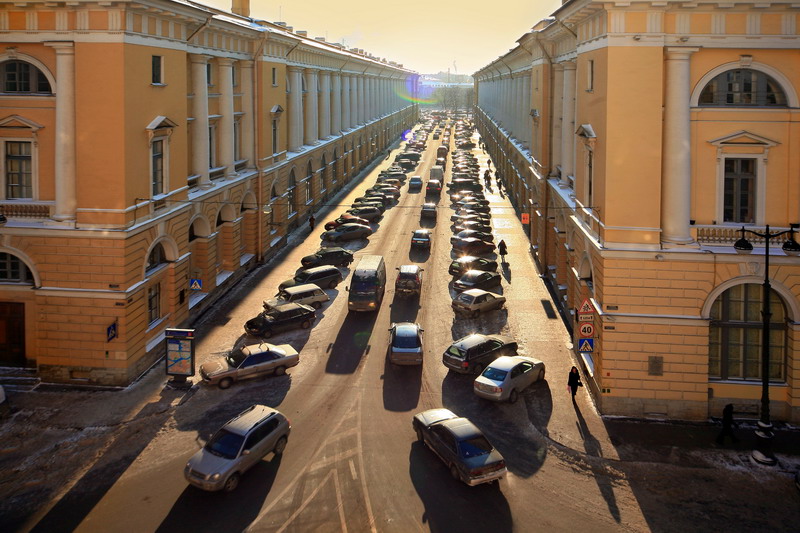 Ulitsa Zodchego Rossi during rush hour
At one time house no. 1/3 was home to the Ministry of Education. House No. 2 was built as an apartment building with the first floor used for retail shops. In 1836, the space became a drama school (now the world-famous Vaganova Academy of Russian Ballet). The Theatre Library, the oldest theatre library of Russia, and the State Museum of Theatre and Music are also located here.
In 2005, St. Petersburg and Italy marked the 230th anniversary of Rossi's birth. Italy remains proud of Rossi's contribution to St. Petersburg's architectural appearance.
| | |
| --- | --- |
| Metro stations: | Gostiny Dvor |
| Directions: | Exit Gostiny Dvor metro station and turn right on Nevsky Prospekt, then right onto Ploshchad Ostrovskogo. Walk through Ekaterinsky Sad (Catherine Garden), passing the building of the National Library, across Ploshchad Ostrovskogo around Aleksandrinsky Theater to street Rossi. |
| Best walking route: | The whole street (about 10 minutes) |
| What's here? | Former Ministry of Education, Vaganova Academy of Russian Ballet, Museum of Theatre and Music |
| What's nearby? | Ploschad Ostrovskogo (Ostrovsky Square), Naberezhnaya Fontanki (Fontanka Embankment), Ploschad Lomonsova (Lomonosov Square), Aleksandrinsky Theater, The National Library, Anichkov Palace, Monument to Catherine II, Ulitsa Lomonosova (Lomonsov Street) |
Dining near the Ulitsa Zodchego Rossi
RESTAURANTS:
Editors' picks