Tavricheskiy Palace
Tavricheskiy - or "Tauride" - Palace is one of the largest and most impressive palaces in St. Petersburg, located in the north-east of the historic centre, next to the Tavricheskiy Garden (formerly the grounds of the palace). Nowadays, the palace is home to the Interparliamentary Assembly of the Commonwealth of Independent States, and is not open for sightseeing. However, since February 2010, halls of Tavricheskiy Palace are being used to host Potemkin Evenings, concerts of 18th century music performed on authentic instruments by some of the best local ensembles.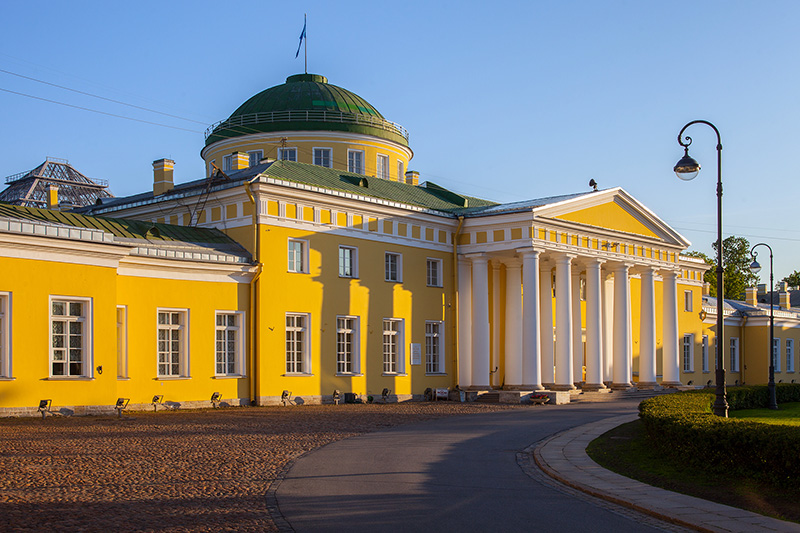 Tauride (Tavrichesky) Palace on Shpalernaya Ulitsa
The Tavricheskiy Palace was built between 1783 and 1789 by Ivan Starov, one of the leading court architects of the period, for Prince Grigory Potemkin, the close confidant and former lover of Catherine the Great. The palace was built and named in honour of his key role in the annexation of the Crimea, for which he was awarded the title "Prince of Tauris" in reference to the Ancient Greek name for the region. Starov designed the palace in strict Palladian style, and its simple facades were in sharp contrast to the richly decorated interiors and the lavish lifestyle led by Potemkin when in St. Petersburg, as he threw a series of increasingly grand and expensive parties in an effort to shore up his waning influence.
The palace was designed to face the Neva River across its extensive parkland, but in 1860 the city's first water-tower was built between the river and the palace, somewhat spoiling its majestic views.
Part of the wrought-iron fence of the Tauride (Tavrichesky) Palace
After Potemkin's death in 1791, Tavricheskiy Palace was bought by the crown. Catherine's son, Paul I, loathed the lifestyle of his mother's court so much that he had the palace turned into stables for the horses of the Imperial Guard, and some of the original interiors were lost. The palace remained in the Imperial family until 1906, when it became the seat of the Imperial State Duma, Russia's first parliament. In 1917 it was briefly home to the Provisional Government and the Petersburg Soviet. In the Soviet Union, the palace was used the All-Union Agricultural Communist University and then the Higher Party School, a college of further education for top-level Communist bureaucrats.
The Tauride Venus in the State Hermitage is named after the palace. The first classical sculpture to arrive in Russia, it was ceded by Pope Clement XI to Peter I in 1718, and kept at Tavricheskiy Palace from the time of Catherine the Great until the mid-19th century.