Palace of Grand Duke Mikhail Alexandrovich
This austerely elegant mansion on one of the most attractive embankments of the Neva River - the English Embankment - belonged to Grand Duke Mikhail Alexandrovich (1878-1918), younger brother of the last Russian Emperor, Nicholas II. In March 1917, Nicholas II abdicated the throne in favor of his brother Mikhail. However, within a year Mikhail had been shot by the Bolsheviks in Perm.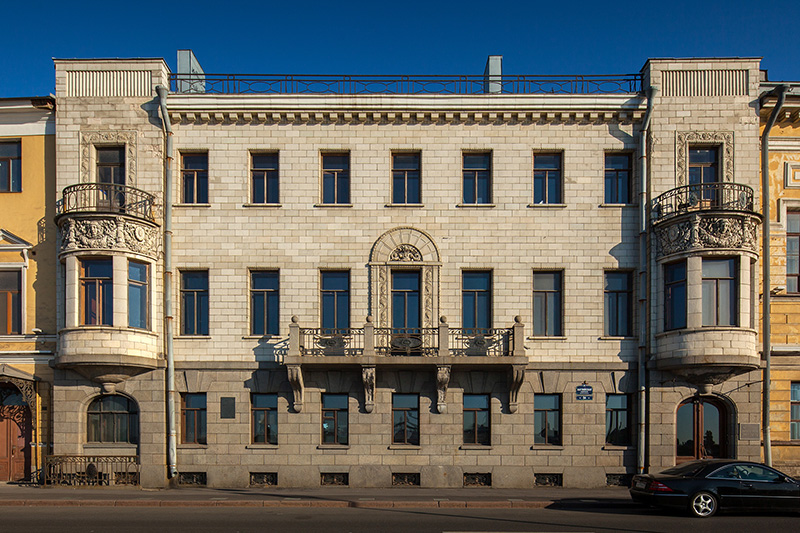 Palace of Grand Duke Mikhail Alexandrovich on the English Embankment
The smaller mansion that originally stood on this site from the 18th century was at one time the home of Princess Tatiana Yusupova, lady-in-waiting to Catherine the Great and a friend of many leading figures of the age, including Gavrila Derzhavin, Alexander Pushkin and Ivan Krylov. The mansion was later bought by Prince Alexander Sergeevich Menshikov (1787-1869), Adjutant-General and Naval Minister. His son, Vladimir Alexeevich, had the mansion rebuilt by Karl Rachau 1870-1874. Both the facades and the rich interiors were in the Louis XV style, and the Prince's Moorish Study was considered especially fine.
The house was then acquired by Mikhail Alexandrovich, and in 1910 another Petersburg German architect, Robert-Friedrich Meltzer was commissioned to modernize the building. The result was the beautiful Art Nouveau building that can be seen today, notable for the simple symmetry of its supremely elegant facades, faced in granite and brick and sparingly decorated with intricate bas reliefs and wrought iron details. Meltzer's father, Johann-Friedrich Meltzer, was a furniture-maker to the Imperial Court, and much of the palace's interior decor was provided by his factory.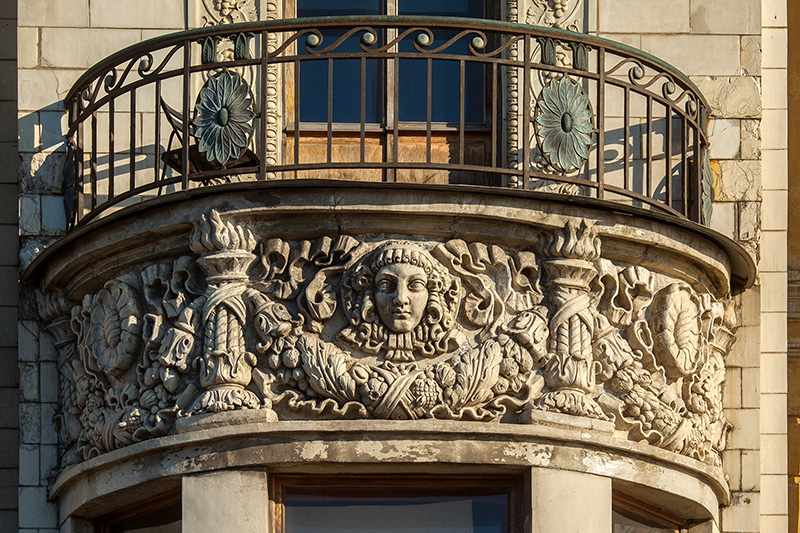 Decorationations on the Palace of Grand Duke Mikhail Alexandrovich on the English Embankment
Mikhail Alexandrovich rarely stayed in his palace. From 1914, he commanded the Caucasian Native Cavalry Division, comprised of Muslim volunteers who, under Russian law, were not subject to conscription for military service. When he was on leave he preferred to rest at his residence in Gatchina, and it was there he was arrested by the Bolsheviks.
In Soviet times and until very recently, the palace was occupied the All-Russian Society of the Deaf. The premises are currently being leased as office space. It is possible to tour the palace, where some of Meltzer's and Rachau's interiors have survived, including the marble staircase and fireplaces, fine wooden panelling and doors, and an ancient elevator.
Accommodation near the Palace of Grand Duke Mikhail Alexandrovich
Dining near the Palace of Grand Duke Mikhail Alexandrovich
RESTAURANTS:
Editors' picks