Palace of Grand Duke Pavel Alexandrovich (Mansion of Baron Stieglitz)
Grand Duke Pavel Alexandrovich (1860-1919), the sixth son of Emperor Alexander II, spent his life in the military and was never involved with politics. He was arrested in Petrograd in 1918 and was shot by the Bolsheviks in the Peter and Paul Fortress the following year. This Renaissance Revival mansion on the English Embankment was purchased for him in 1887 shortly before his marriage to Grand Duchess Alexandra Georgievna, daughter of King George I of Greece. When his 20-year-old wife died during the birth of their second child in 1891, the grieving Grand Duke left the palace for Tsarskoye Selo and did not return. In light of his brief residence in the building, it is often better known as the mansion of Baron Alexander Stieglitz, Russia's leading financier, first Governor of the Bank of Russia, and founder of the Stieglitz School of Technical Drawing.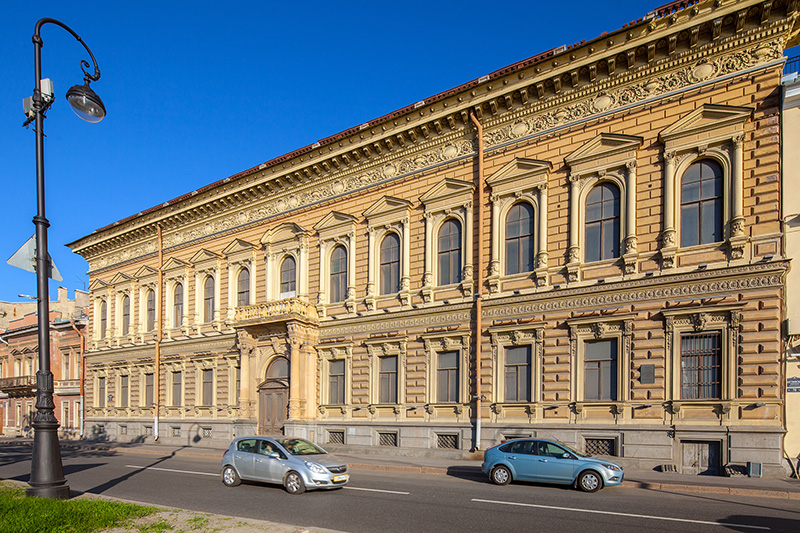 Palace of Grand Duke Pavel Alexandrovich on the English Embankment
The mansion was designed for Stieglitz by Alexander Krakau and erected from 1859 to 1862. In his design, Krakau used the walls of two houses previously located here, one of which was built in 1716 by the ship builder Ivan Nemtsov and was the first stone house on the English Embankment. The house passed to Nemtsov's son-in-law, Sava Chevakinsky, designer of the St. Nicholas Naval Cathedral and one of the few Russian-born architects to achieve prominence in the 18th century. Krakau's interiors, which were beautifully recorded and preserved in an album of watercolours by the Italian artist Luigi Premazzi. The treasures of the house included the white marble staircase, the sitting room decorated with caryatids, the oak-paneled library, and the concert hall with portraits of great composers and panels depicting The Four Seasons . 3.5 million rubles, a huge sum in those days, was spent on the construction.
After the death of Stieglitz in 1884, the mansion was inherited by his adopted daughter, Nadezhda Polovtsova, who was in fact the illegitimate child of Grand Duke Mikhail Pavlovich, and thus a close cousin of Pavel Alexandrovich. She sold the property to the Treasury in 1887, and the great palace architect Maximilian Messmacher redesigned some of the interiors, creating a magnificent Moorish Hall.
For a long time after Pavel Alexandrovich left the palace, it stood vacant. Eventually it became home to various Soviet institutions, and recently it was acquired by St. Petersburg State University. The university's planned restoration is expected to cost 50-60 million dollars.
| | |
| --- | --- |
| Address: | 68, Angliyskaya Naberezhenaya |
| Metro: | Admiralteyskaya |
| Directions: | Exit Admiralteyskaya Metro Station and turn left then right and left again onto Nevsky Prospekt. Follow the road around past Palace Square and the Winter Palace and turn left onto the Admiralty Embankment. Continue along the embankment around 800 m. |
| What's nearby? | Neva River, Anglican Church of Jesus Christ, Palace of Grand Duke Mikhail Alexandrovich, Bobrinsky Palace |
Accommodation near the Palace of Grand Duke Pavel Alexandrovich
Dining near the Palace of Grand Duke Pavel Alexandrovich
RESTAURANTS:
Editors' picks