Palace of Grand Duke Alexey Alexandrovich (Music House)
Unlike other palaces that belonged to the imperial family, the Palace of Grand Duke Alexey Alexandrovich, brother of Emperor Alexander III, is not located in the busiest part of the city but closer to the shipyards in the traditionally poor Kolomna District. The prince's life had been tied to the sea since his childhood. Alexey served on many ships and was even a member of a circumnavigation voyage. In 1905 he retired with the rank of admiral and settled down in his palace.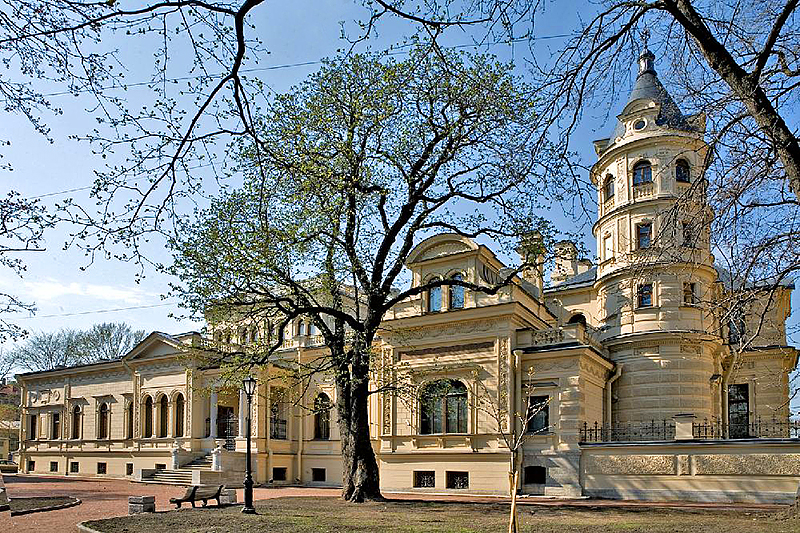 Palace of Grand Duke Alexey Alexandrovich (House of Music) on the Moyka River
The palace was built on the Moyka in 1883-1885 by the court architect and interior designer Maximilian Messmacher. The palace does not stand here alone. Instead, a complex of buildings including a four-story guest house, a workshop, stables, greenhouses, and gardens were built. The front yard near the Moyka was separated by a gold monogramed wrought-iron fence. Messmacher made use of all pre-existing buildings on the site, thus significantly saving time and money. At the request of his royal client, Messmacher lent the grand residence the romance of the castles of medieval France.
The rooms of the palace were all designed in different styles. From the luxurious entrance hall you can go to the Rococo ballroom, the Red Sitting Room furnished in the style of Louis XV, a Renaissance style study with Baroque elements, or the Flemish Sitting Room with rich tapestries. The palace's largest room is the English Hall, also in Renaissance style. The Chinese Sitting Room is an example of late choiserie, with carved rosewood panels and printed fabrics. The eastern wing of the palace is crowned by a large tower with a spiral staircase of 120 steps.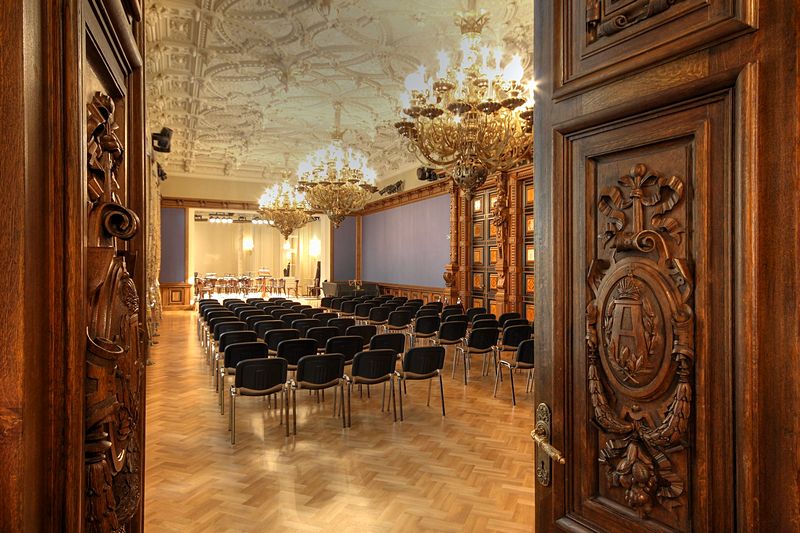 English Hall at Palace of Grand Duke Alexey Alexandrovich (House of Music)
After the death of the Grand Duke, the Palace and gardens were sold. In Soviet times the building was occupied by various organizations and then stood empty for a long time. In 2005 an extensive restoration programme was initiated, after which the palace was handed over to the Music House, a state organization aimed at encouraging young classical musicians with an active programme of workshops and educational events as well as concerts. Today, the historic interiors of the palace are filled with the sounds of musical instruments. On weekdays, daytime tours are available for groups. A lovely view of the palace is offered from the public Alekseevskiy Garden.
| | |
| --- | --- |
| Address: | 122, Naberezhnaya Reki Moyki |
| Directions: | From along Nevsky Prospekt, take a No. 3 or No. 27 bus to the Mariinsky Theatre stop. Coming off the bus turn right along Ulitsa Glinka to the Moyka River Embankment. Turn left along the embankment, cross the Kryukov Canal, and the palace is to your left about 300 m along the embankment. |
| Website: | http://eng.spdm.ru/ |
| Phone: | +7 (812) 702-6096 |
| What's nearby? | Moyka River, New Holland |
Dining near the Music House
RESTAURANTS:
Editors' picks