New Holland
One of St. Petersburg's more unusual historic landmarks, New Holland ("Novaya Gollandiya") is a triangular man-made island between the Kryukov Canal, the Admiralty Canal, and the Moyka River.
The island was first created in 1719, when the two perpendicular canals were first build. Peter the Great immediately saw the opportunity to create Russia's first naval port, and also had a wooden palace built for himself on the island. The Tsar chose to call his new home "New Holland", commemorating his enthusiasm for all things Dutch. Soon the island was covered with wooden structures built to house stores of wood, shipbuilding instruments, and all the other supplies needed to service the burgeoning Russian fleet.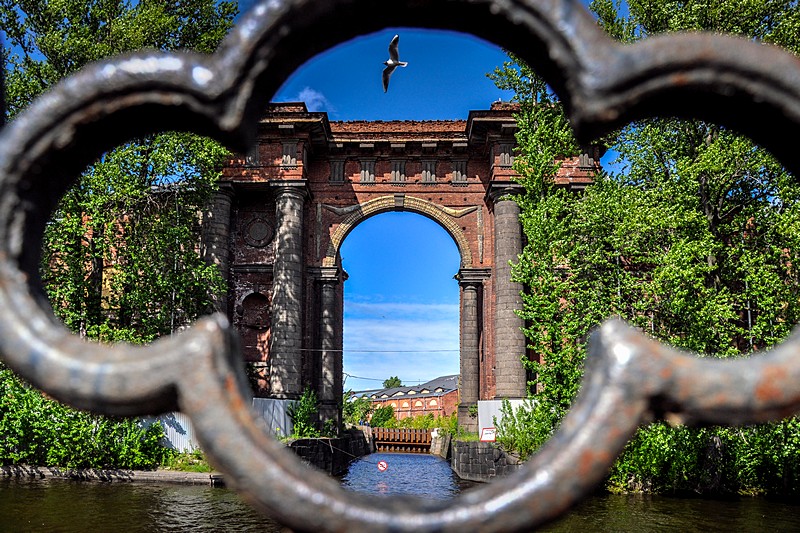 The famous arch of the New Holland complex
In the second half of the 18th century, the decision was taken to replace all the wooden buildings on New Holland with stone structures. The project ran from 1765 to 1780, first under the auspices of the Russian architect Savva Chevakinsky, then of the Frenchman Jean-Baptiste Vallen de la Mothe. The latter was responsible for the most famous structure on the island, the monumental neoclassical arch linking the Moyka River with New Holland's internal pool. Measuring 23 meters in height and eight meters in width, the arch took nine years to construct (1770-1779), and each of the granite blocks used to make it weighed nearly four tons.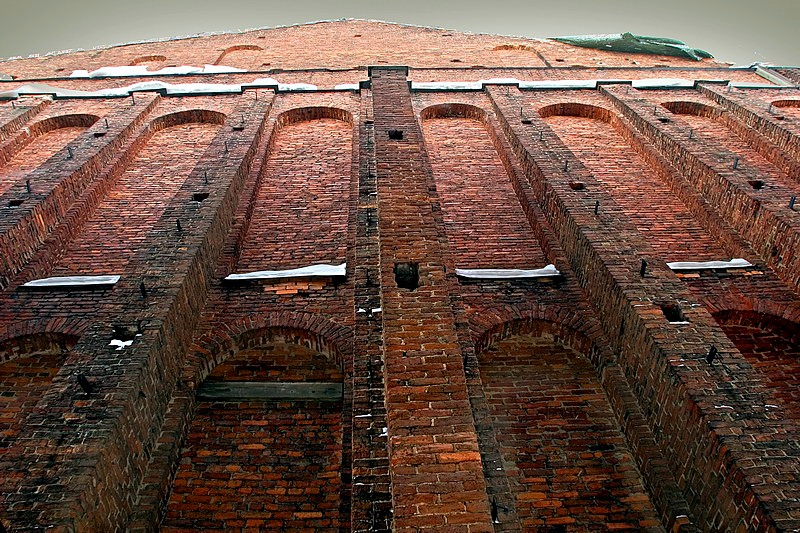 Brick wall of the New Holland complex
In total, there were 26 warehouse buildings erected on the island, with a total wall length of 260 meters. Unlike most buildings in the city at the time, the outer walls were not plastered, leaving visible the red brickwork that would become the norm for industrial buildings in the city.
In 1828, the architect Alexander Shtaubert added the round building of the Naval Prison, while in 1893 a testing pool was constructed on the island where mathematician and naval engineer Alexey Krylov performed pioneering experiments in ship floodability. During the First World War, the Naval Headquarters Radio Station, at the time the most powerful in Russia, was installed on the island, and it was from there that the Bolsheviks announced to the world their seizure of power in November 1917.
During the Soviet era, New Holland was a closed area, used as warehouses for the Leningrad Fleet. In 2004, a major fire destroyed several of the island's historic structures, which immediately led to the announcement of an international competition for projects to redevelop this prime central site. Sir Norman Foster's proposal for a combined business, retail, cultural and entertainment centre was declared the winner, but the project ran into financing difficulties. The island is now being redeveloped by New York architects Work AC, and for the last two years has been open to the public during the summer with a variety of events and exhibitions.
Address:
103, Naberezhnaya Reki Moyki / 2, Naberezhnaya Admiralteyskogo Kanala
Metro:
Sennaya Ploshchad / Sadovaya / Spasskaya, Admiralteyskaya
Getting there:
From Admiralteyskaya, turn right then right again out of the metro onto Bolshaya Morskaya Ulitsa. Continue along the street until it merges into the embankment of the Moyka River, and New Holland is to your right about 200m on.
From any of the three metro stations on Sennaya Ploshchad, exit via Sadovaya to the Griboedov Canal. Walk left along the canal until you reach the Lion Bridge. Cross the bridge and walk straight on along the very short Lviniy Pereulok. Turn left onto Ulitsa Dekabristov and take the first right onto Ulitsa Glinka. New Holland is about 100m ahead.
Website:
http://www.newhollandsp.ru/en/
Opening hours:
Monday to Thursday 11am to 10pm, Freeday to Sunday 11am to 11pm
Admission:
Free
Accessibility note:
Full wheelchair accessible
What's nearby?
Angliyskaya Naberezhnaya (English Embankment), Moyka River, Kryukov Canal, Ploshchad Truda, Bolshaya Morskaya Ulitsa, Konnogvardeyskiy Bulvar, Nikolaevskiy Palace