Palace of Grand Duke Alexander Mikhailovich
Grand Duke Alexander Mikhailovich Romanov (1866-1933), grandson of Emperor Nicholas I, was quite the Renaissance man during the early 20th century. Aside from being a sailor, airman, and spiritualist, he also served as a Russian admiral and statesman, and was a talented writer, leaving behind several volumes of memoirs. In 1894, he married Princess Ksenia Alexandrovna, the eldest daughter of Alexander III, and the bride and groom were given this palace on the Moyka River Embankment. Its reconstruction was entrusted to the architect Nicolas de Rochefort.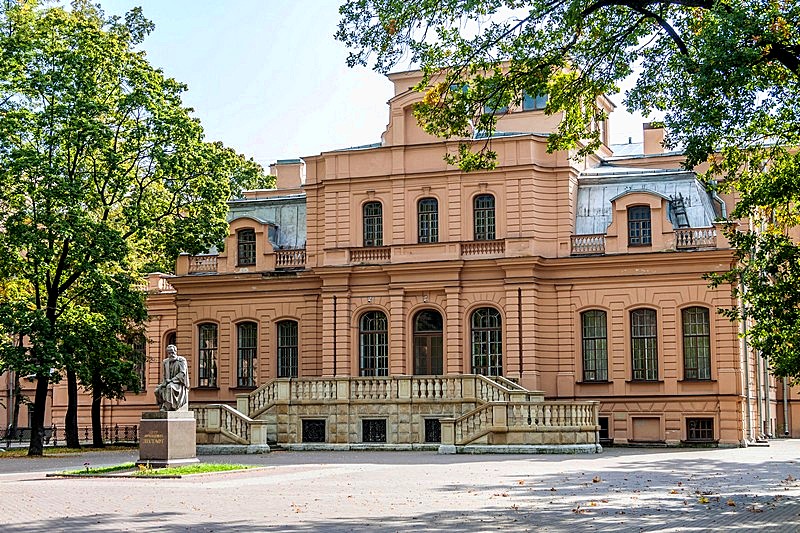 Palace of Grand Duke Alexander Mikhailovich Romanov on Naberezhnaya Reki Moyki
A collection of several buildings had already stood on this site. The first house appeared here in 1710s and belonged to Rear Admiral Ivan Senyavin who served under Peter the Great. Subsequent owners of the mansion gradually expanded it, adding new wings, and by the middle of the 19th century it had become large enough to attract the aristocrat Princess Vorontsova. When she instructed the architect Hippolyte Monighetti to reconstruct the building in the style of early French neoclassicism, it became known as the Vorontsova Palace.
The palace was once again rebuilt by de Rochefort. As a result of these numerous reconstructions the building lost its strict stylistic form and its facades were weak and overly eclectic. However, de Rochefort labored on the graceful interiors and the fine wrought iron fence of the garden. Today the interiors have unfortunately not survived, but the elegant railings and gates can still be admired. As a side note, the architect tried to take into account the fact that the palace is located on the same axis as the monumental arch of Novaya Gollandia (New Holland), located on the other side of the embankment, so it forms a compositional unity. A small church was built near the palace in the Russian Revival style.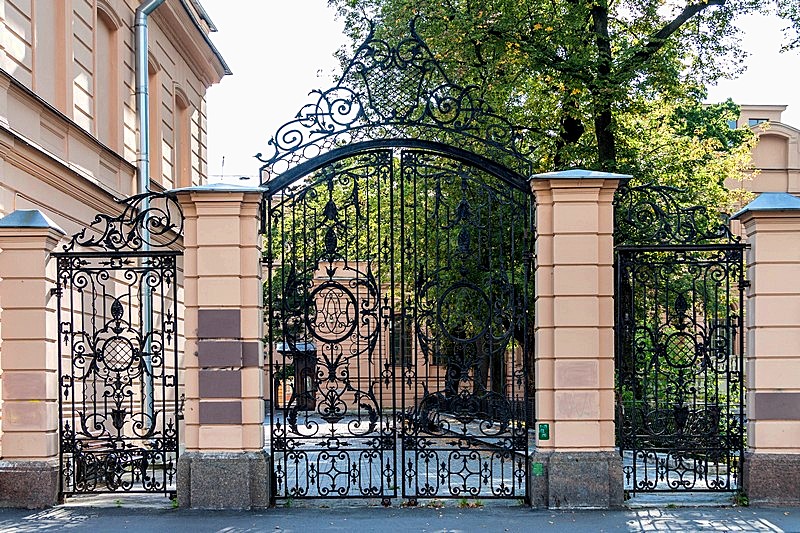 Wrought-iron gates of the palace
After the October Revolution, the owners of the palace emigrated from Russia, and the estate was turned into to the Institute of Physical Education, known today as the Lesgaft Academy of Physical Education, named after the anatomist, social reformer and PE pioneer Pyotr Lesgaft (1837-1909). The family tree branching from Grand Duke Alexander Mikhailovich leads to most of the Romanovs alive today.
| | |
| --- | --- |
| Address: | 106, Naberezhnaya Reki Moyki |
| Directions: | From along Nevsky Prospekt, take a No. 3 or No. 27 bus to the Mariinsky Theatre stop. Coming off the bus turn right along Ulitsa Glinka to the Moyka River Embankment. Turn left along the embankment, cross the Kryukov Canal, and the palace is to your left. |
| What's nearby? | Novaya Gollandia (New Holland), Kryukov Canal, Teatralnaya Ploschad (Theatre Square), Bolshaya Morskaya Ulitsa |
Dining near the Palace of Grand Duke Alexander Mikhailovich
RESTAURANTS:
Editors' picks