The Kunstkammer (Museum of Anthropology and Ethnography)
Officially known as the Museum of Anthropology and Ethnography, this was the first museum in Russia, and is one of the oldest in the world. The museum's founder, Peter the Great, had begun collecting curiosities - stuffed animals, model ships, tools and astronomical instruments. In 1718, The Tsar gave the order for the establishment of a 'kunstkammer' (a chamber of art), and himself enriched the collection with exhibits brought back from each of his journeys abroad. The core of the collection is still made up of exhibits collected during Peter's lifetime, including the anatomical specimens and assorted freaks prepared by the Dutch anatomist Frederick Ruysch.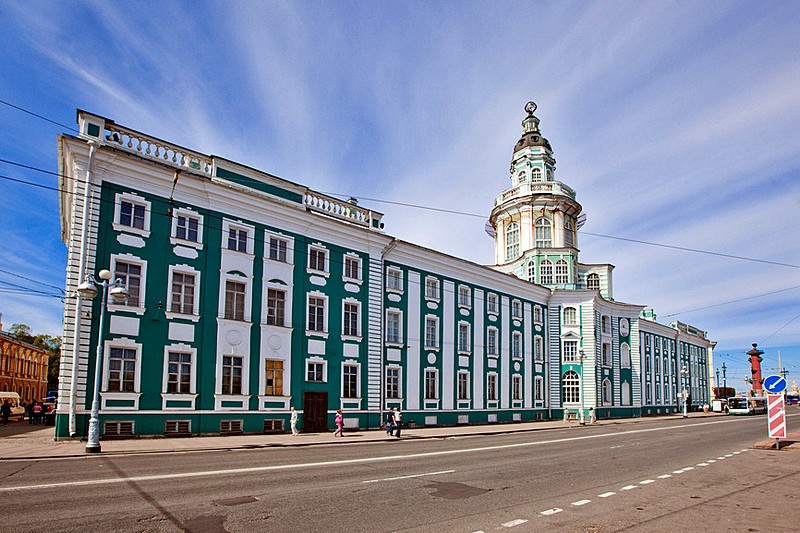 Kunstkammer (Kunstkamera) on Vasilevskiy Island
The Kunstkammer building once also housed the Academy of Sciences, which is why you can also find part of the museum dedicated to Mikhail Lomonosov, the great Russian polymath who was one of its members. The museum has a number of valuable artifacts which chart Lomonosov's work as a key figure of the Enlightenment, the founder of Moscow University, a scholar with a vast knowledge of different sciences, a historian and a leading poet of the era.
The museum's archives hold over a million ethnographic, anthropological and archaeological artifacts. The cultures of races from Siberia to Oceania to South America are broadly and colorfully represented. Many of the exhibits were gathered by famous Russian explorers of the 19th century, and the highlight of the exhibition is the collection of the famous traveler Nikolai Miklukho-Maclay.
The museum's collection was kept for a long time in the Kremlin - the home of the tsars before the capital was moved to St. Petersburg. Objects were sent from the furthest reaches of Russia's territories to the Kremlin's stores: minerals, nuggets of gold, and rare treasures from ancient burial mounds. In the new capital, the collection was moved in 1714 to a special section of the Summer Palace, called a kunstkammer, a generic name used throughout northern Europe to describe the earliest museums of "art and wonders". In 1719, the collection was moved to the Kikin Mansion, formerly the home of the disgraced head of the Admiralty, Alexander Kikin, who was executed for his role in Tsarevich Alexei's abdication. Here the collection was opened to the public, who were offered free admittance, and a cup of coffee or a shot of vodka as extra enticement.
The museum was soon moved again, this time to its present home, purpose-built by architects Mattarnovi and Zemtsov to house the collection and the Academy of Sciences. Completed in 1734, the building was badly damaged by a fire in 1758 which also destroyed much of the original anthropological collection. The building was restored by Savva Chevakinskiy, and the collection was quickly replenished with finds from the numerous expeditions organized by Academy. The museum became one of the world's largest collections of ethnographic artifacts, charting the histories of different peoples throughout the world.
| | |
| --- | --- |
| Location: | 3, Universitetskaya Naberezhnaya |
| Metro: | Nevsky Prospekt, Admiralteyskaya, Vasileostrovskaya |
| Telephone: | +7 (812) 328-1412, +7 (812) 328-0812 |
| Open: | Daily from 11 am to 7 pm, Last admission is at 6 pm. |
| Closed: | Mondays and the last Tuesday of each month |
| Website: | http://www.kunstkamera.ru/en/ |
| Admission: | Adult: RUB 250.00. Students/children: RUB 50.00. Admission is free on the third Friday of each month |
| Photo and video: | Free |
| Accessibility note: | Sorry, this museum is not wheelchair accessible. |