Kikin Hall
Kikin Hall is one of the oldest residential buildings in St. Petersburg, and one of the few surviving examples of Petrine baroque. The house was built in 1714 for Alexander Kikin (c. 1675-1718), Admiralty Councilor and one of Peter the Great's closest comrades. The house originally had two floors, and its interior plan partly copied the layout of the Grand Palace at Peterhof. In 1718, after the arrest and execution of the owner, Kikin Hall was used to house Russia's first public museum, founded by Peter the Greater himself and nowadays known as the Kunstkammer. Alongside the museum, Russia's first national library was also established, based on Peter's private collection of books. To accommodate both institutions, an extra storey was added to the house.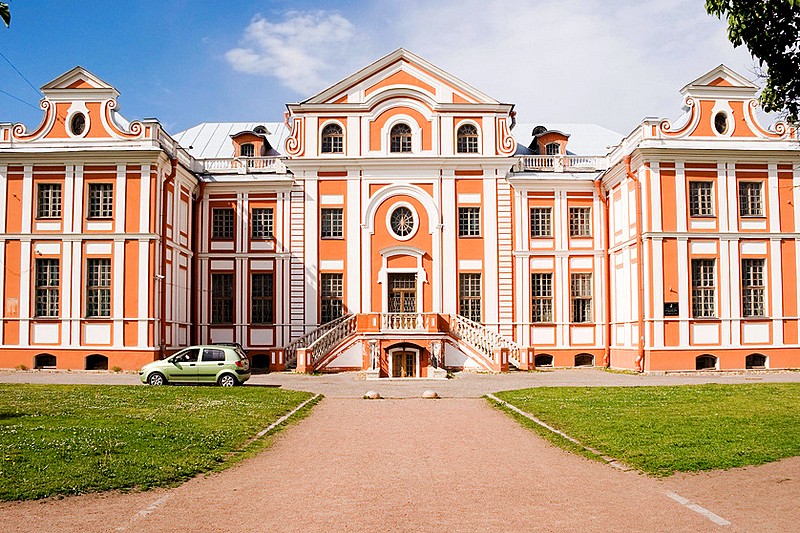 Kikin Hall - one of St. Petersburg's earliest surviving Apartment Buildings
In 1733 the whole neighborhood was assigned as barracks to the Horse Guards, and Kikin Hall was turned into the administrative office, infirmary, and chapel for the regiment. Further alterations were made to the building, and a wooden bell-tower was added to the central block. Kikin Hall was altered again 1829-1830, when architect Alexander Shtaubert removed the porch, completely changed the decoration of the facades, rebuilt the top floor, and decorated it with triangular gables.
During the Siege of Leningrad (1941-44), the building was severely damaged by shelling. Between 1952 and 1956, the architect Irina Benois superintended the restoration of the building, returning it to its original 18th century form. Today, Kikin Hall is home to the St. Petersburg Musical Lycee, a specialist high-school for musically talented children.
This two-storey building with its high mezzanine is best viewed from Shpalernaya Ulitsa. The front entrance is beautifully enhanced by its high porch with curved staircase. Typical of the period are the oval windows, the small glass panes, and the sharp contrast between the deep red of the walls and the white of the raised panels, cornices, and architraves. The interiors of the building have also been beautifully restored, although the school is not normally open to the public. However, there are often concerts given by pupils and staff in the buildings main hall.
| | |
| --- | --- |
| Address: | 9, Stavropolskaya Ulitsa |
| Metro: | Chernyshevskaya |
| Getting there: | From Chernyshevskaya Metro Station take the 136 bus or 46 marshrutka to the intersection of Shpalernaya Ulitsa and Stavropolskaya Ulitsa, then turn left up Stavropolskaya Ulitsa. Kikin Hall will be about 100m in front of you. |
| What's nearby? | Shpalernaya Ulitsa, Smolny Cathedral |