Monument to the Torpedo-Boat Steregushchiy
This impressive monument in Alexandrovskiy Park commemorates a tragic event that is simultaneously historic and legendary. During the Russo-Japanese War (1904-1905), the Torpedo-Boat Steregushchiy ("Vigilant") was on a scouting mission when it became engaged in an uneven battle with a Japanese naval squadron. Nearly all the crew, including the captain and all officers, were killed in combat and the boat was captured by the enemy. The boat unexpectedly sank, however, and the rumour spread that the remaining sailors had opened the sea-cocks and flooded their own ship to prevent it passing into enemy hands.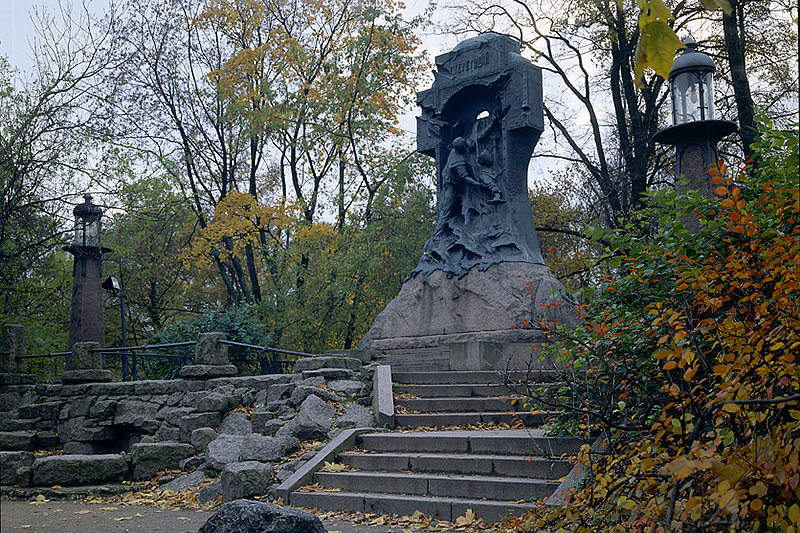 Monument to the Torpedo-Boat Steregushchy on Kamennoostrovskiy Prospekt
Although research soon showed that this was not the case, the story proved popular with the Russian public, and Nicholas II gave permission for a monument to be erected in honour of the sailors' bravery. Designed by sculptor Konstantin Izenberg and architect Alexander von Hohen, the monument consists of a massive bronze cross mounted on a granite block. In the centre of the cross is a depiction of two sailors opening the sea-cocks and seawater flooding through. A bronze plaque is inscribed with the story of the Steregushchiy. On either side of the monument are lampposts in the form of lighthouses.
The monument was unveiled in 1911, with the only surviving member of the Stergushchiy's crew, Vasiliy Novikov, in attendance. In 1955, another bronze plate was attached to the monument with a full list of the crew of the torpedo-boat. From the 1930s to the 1970s, the monument featured a fountain, although this was removed as it was causing damage to the sculpture.
| | |
| --- | --- |
| Metro: | Gorkovskaya |
| Getting there: | From the exit to the metro station, follow the path diagonally to Kamennoostrovskiy Prospekt. The memorial is a few steps along the avenue to your right. |
| What's nearby? | Peter and Paul Fortress, Alexandrovskiy Park, Kamennoostrovsky Prospekt |
Dining near the Monument to the Torpedo-Boat Steregushchiy
RESTAURANTS:
Editors' picks