Monument to Lenin on Ploshchad Lenina (Lenin Square)
Almost every town in Russia has a prominent statue of Vladimir Ilyich Lenin, father of the October Revolution, but few have the historic significance of this vast monument in front of the Finland Railway Station. It stands roughly on the spot where Lenin, straight off the train that returned him from exile, mounted an armoured car to give an impassioned speech to a crowd of welcoming workers, soldiers and sailors, marking the beginning of his personal involvement in the tumultuous events of 1917.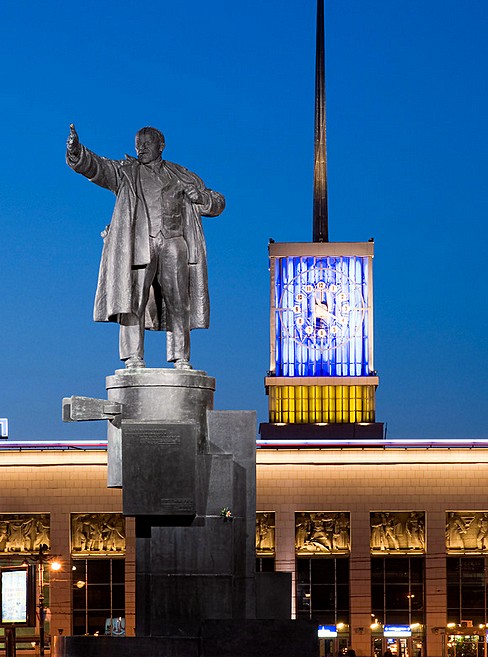 Monument to Vladimir Lenin next to Filnald Railway Station
Unveiled in 1926, this was one of the first monuments to Lenin to appear after his death in 1924. Of over 60 designs submitted for consideration, the Soviet authorities chose this portrayal of the great revolutionary with his left hand tucked into the armpit of his waistcoat and his right hand raised to show the way forward for the Revolution of the International Proletariat. Created by sculptor Sergey Evseev, it became a prototype for thousands of monuments across the Soviet Union. The bronze figure of Lenin and the turret of the armoured car measures 4.3 meters, while the total height of the monument including its black granite pedestal in constructivist style by architects Vladimir Shchuko and Vladimir Gelfreich is 10.7 meters.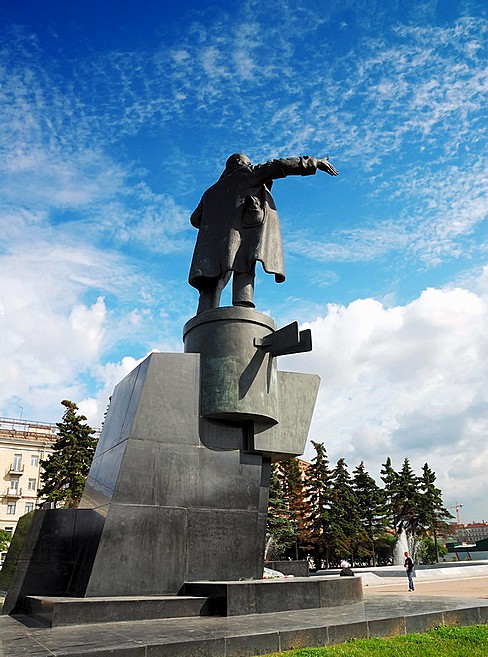 Monument to Bolshevik leader Vladimir Lenin giving a speech from an armored car
The monument originally stood closer to the station on Botkinskaya Ulitsa but was moved when Ploshchad Lenina was reconstructed in 1945. The fountains around the monument were added in 2005. In 2009, the statue was briefly removed after a small explosive device blew a hole through Lenin's nether regions. The culprits were never apprehended and the reason for the attack has never been ascertained, but the monument has since been restored to all its former glory.
| | |
| --- | --- |
| Metro: | Ploshchad Lenina |
| Getting there: | The monument is in the centre of the square opposite the exit from the metro. |
| What's nearby? | River Neva, Finland Railway Station, Liteyny Bridge |
Accommodation near the Monument to Lenin on Ploshchad Lenina
Dining near the Monument to Lenin on Ploshchad Lenina
RESTAURANTS:
Editors' picks