Monument to Nicholas I (on Isaakievskaya Square)
The monument to the iron-willed and notoriously despotic Russian ruler Nicholas I on St. Isaac's Square was built by renowned Russian architect Auguste de Montferrand between 1856 and 1859. Montferrand also built the neighboring St. Isaac's Cathedral.
The monument to Nicholas I accurately and powerfully depicts the determined absolutist Russian ruler as a powerful military figure.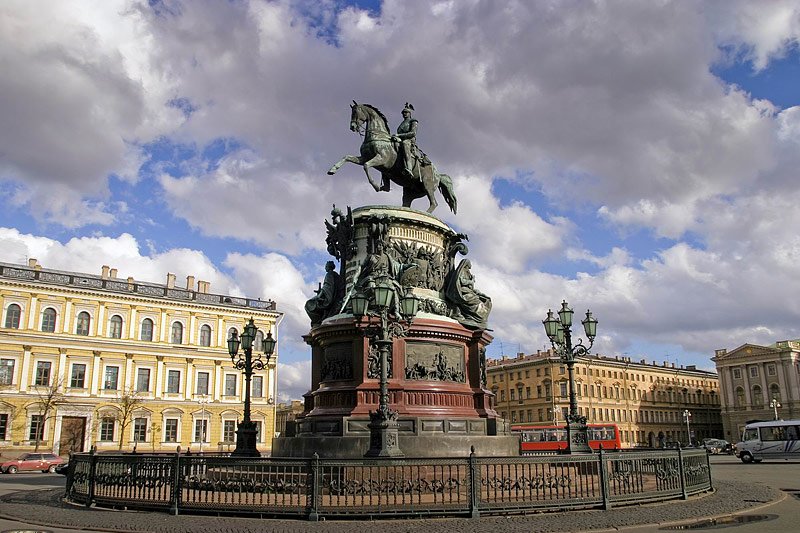 Equestrian monument to Nicholas I at Isaakievskaya Ploshchad (St. Isaac's Square)
In fact, Nicholas I was a junior army officer at heart. He was especially devoted to his troops and intricately involved in the details of the military from ordering the alteration of military uniforms to specializing in the engineering of military fortresses.
His despotic rule over Russia from 1825-1855 saw the crushing of the liberal Decembrist revolt and the expanse of Russian territory largely at the expense of Turkey.
Several different sculptures were used in creating the monument. A large model of the pony which Nicholas I sits on was completed by famous Russian classical sculpture Peter Klodt.
N. Ramazanov and R. Zaleman sculpted the model of the monument's pedestal. Zaleman also sculpted the four allegorical female figures, steel fixtures and ornaments on the pedestal and bas-relief showing the historic and significant "Delivery of the Codification of Law to Count Michael Speransky." It was largely through the work of Speransky and his associates that the new code was introduced during Nicholas I's reign in January 1835 marking a milestone in Russian jurisprudence.
P. Klodt completed the casting of the pony statue and two bas-reliefs in the Liteinoy artist's studio of the Academy of Arts. A local factory completed the remaining bronze parts of the monument.
The impressive pedestal stands on a short platform made of red Finnish granite with three steps. The lower part of the pedestal is made of dark gray granite and red porphyry. The middle part is decorated with bronze bas-reliefs and hewed from red Finnish granite. The upper part of the pedestal is made of red porphyry. The pedestal of the pony statue is sculpted from white Italian marble.
The monument has an especially beautiful silhouette, but at the same time boasts a complex composition. The placement of the monument on one of the city's most beautiful and historic squares and the great interrelationship between the monument and the square is especially powerful and gives the impression of a unified and complete ensemble.
Dining near the Monument to Nicholas I
RESTAURANTS:
Editors' picks