The Alexander Column
From the creator of the marvelous St. Isaac's Cathedral came this monument to the Russian military victory in the war with Napoleon's France. Named after Emperor Alexander I, who ruled Russia between 1801 and 1825 (during the Napoleonic Wars), the column is a terrific piece of architecture and engineering.
The Alexander Column (Aleksandrovskaia Kolonna), the focal point of Palace Square, was designed by the French-born architect Auguste de Montferrand and built between 1830 and 1834. The monument is 155 feet 8 inches tall and is topped with a statue of an angel holding a cross (the face of the angel is said to be modeled on the face of Emperor Alexander I). The body of the column is made of a single monolith of red granite, which stands 83 feet 6 inches high and about 11 feet 5 inches in diameter. It is a terrific feat of engineering that this enormous column, weighing an incredible 1,322,760 pounds (600 tons), was erected in under 2 hours without the aid of modern cranes and engineering machines.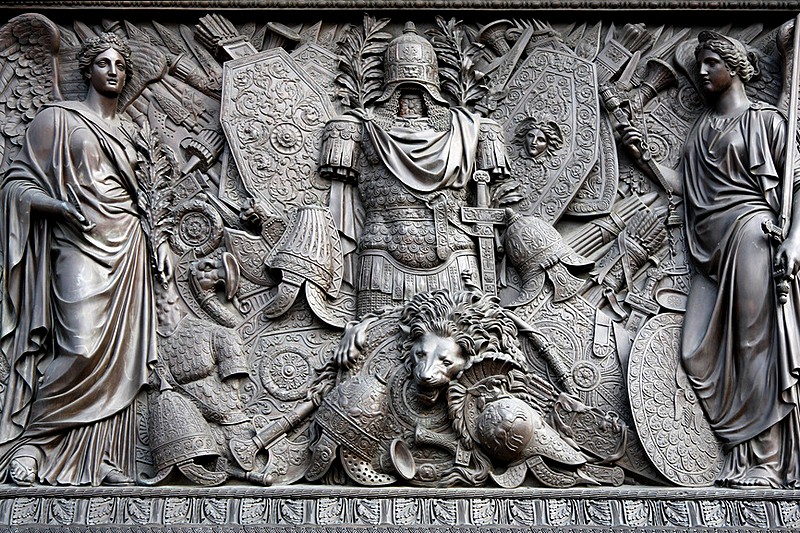 Bas-relief on the pedestal of the Alexander Column
The pedestal of the Alexander Column is decorated with symbols of military glory. The monument is particularly impressive on a sunny evening shortly before dusk, when the last beams of sunlight are reflected in the polished red granite of the column.
Location: Palace Square.