Monument to Alexander II
Considered the most liberal of the Russian Emperors, and certainly responsible for the most far-reaching reforms in Russian life since the reign of Peter the Great, including the emancipation of the serfs, Alexander II's greatest memorial in St. Petersburg is undoubtedly the Church of Our Saviour on the Spilled Blood, built on the site where he was assassinated in a terrorist bomb attack.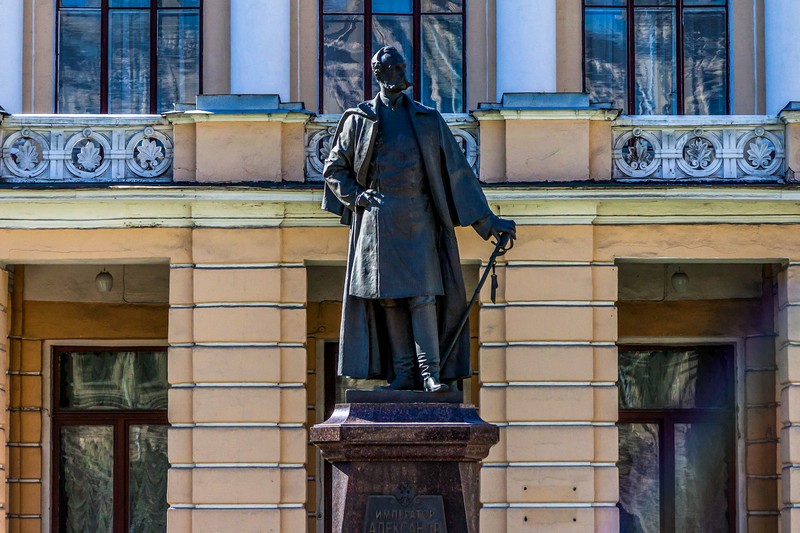 Monument to Alexander II in front of the former building of the Nikolaevsky Academy of the General Staff
However, the two sculptures of the Emperor that were erected in St. Petersburg after his death did not survive the Soviet era. One was destroyed, the other, a full-length statue by Mark Antokolsky of Alexander leaning on a sword, is now in the courtyard of the Museum of Russian Art in Kiev). It was only a decade ago, to mark the 300th anniversary of the founding of St. Petersburg, that a copy of Antakolsky's sculpture was placed in front of the former Nikolaevskiy General Staff Academy on Suvorovskiy Prospekt, finally giving the city a public representation of one of Russia's most admired and fondly remembered rulers.
| | |
| --- | --- |
| Address: | 32B, Suvorovskiy Prospekt |
| Metro: | Chernyshevskaya |
| Getting there: | Turn left then left again out of the metro station, and cross Kirochnaya Ulitsa. From the bus stop on the opposite side of the road, take a 15 or 46 bus to the corner of Kirochnaya Ulitsa and Suvorovskiy Prospekt. Turn right along Suvorovskiy Prospekt and walk about 200m. The monument is set back from the street behind railings to your right. |
| What's nearby? | Tauride Garden (Tavrichesky Sad), Suvorov Museum |
Dining near the Monument to Alexander II
RESTAURANTS:
Editors' picks