Kochubey Mansion on Konnogvardeyskiy Bulvar
The Kochubey Mansion is a superb example of mid-19th century architecture. Built for Prince Mikhail Kochubey (1816-1876), it was completed in 1857 to designs by Harald von Bosse in the then-fashionable Renaissance Revival style and is popularly known in St. Petersburg as the "House with Moors".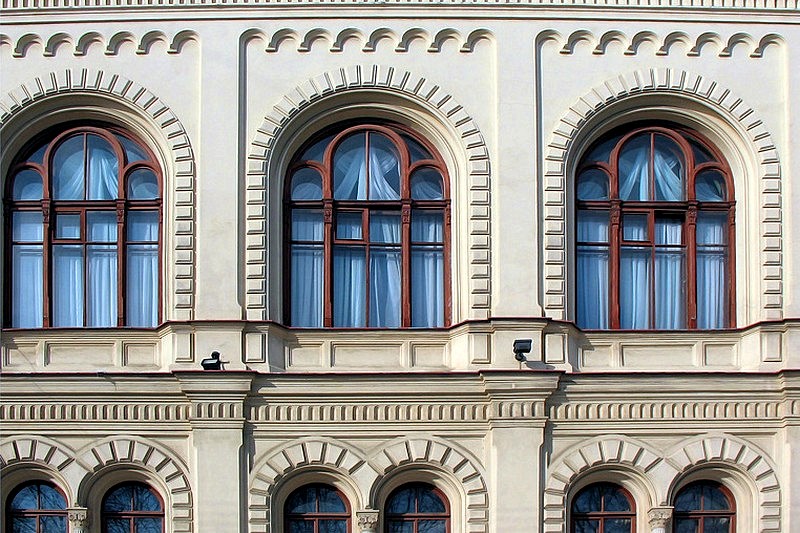 Front of the Kochubey Mansion
Facing Konnogvardeyskiy Bulvar, the house had a two storey facade, with a half basement covered by arches, while from the courtyard the facade has three storeys. The facade was decorated with a granite base, three balconies and a cast-iron porch. The house was fitted with the latest in engineering technology, which included a type of hypercaust to circulate hot air, running water and bathrooms.
Along with the facades, the mansion's interiors were of unusually high artistic value. Bosse was a true master of interior design and an exceptional draftsman. Plasterwork, caryatides, carved oak doors, and fireplaces executed to his designs have survived in various rooms. In the 1860s, the house was acquired by Fyodor Rodokanaki, a leading merchant of Greek-Ukrainian origin, who altered some of the rooms. For example, Bosse's winter garden was turned into a formal dining hall.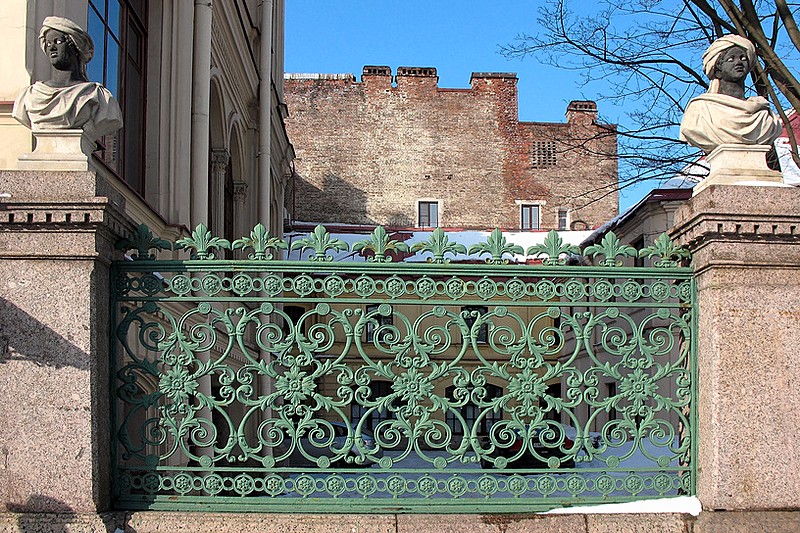 Moors at the gate of the Kochubey Mansion on Konnogvardeisky Boulevard
In 1917, the building was taken over by the Bolshevik military tribunal, and the fate of many Petersburgers was decided in its basements. In the 1960s, the building was occupied by a beauty clinic called the "Institute of Beauty", during which period serious damage was done to the historic interiors. Full restoration works began in 1993, resurrecting the glories of the formal staircase, the formal and oak dining halls, the malachite drawing room, the dancing and music halls, the library and other rooms. The Kochubeyev Mansion has taken its place as one of St. Petersburg's foremost architectural masterpieces. Today the building hosts regular banquets, conferences, seminars and celebrations. It is possible to visit the mansion's reception rooms only as a guest at such events or as part of an organized tour group.
| | |
| --- | --- |
| Address: | 7, Konnogvardeyskiy Bulvar |
| Metro: | Admiralteyskaya |
| Getting there: | From Admiralteyskaya, turn left then left again along Malay Morskaya Ulitsa. Walk down the street, straight past St. Isaac's Cathedral and right along Prospekt Dekabristov. Konnogvardeyskiy Bulvar is the second street on the left, and the mansion is on the far side of the boulevard. (10 minutes) |
| Tours of the mansion: | http://excurspb.ru/inter/palace/8-kochubeyk.html |
| What's nearby? | Alexandrovskiy Garden, St. Isaac's Cathedral |
Dining near the Kochubey Mansion on Konnogvardeyskiy Bulvar
RESTAURANTS:
Editors' picks