While the Russian star-rating system is now supposedly a universal guide to standards of accommodation, some properties in St. Petersburg have still not been rated, or possibly prefer not to advertise their results. For the most part, these are "mini-hotels" - more like guest houses or bed-and-breakfasts than full service properties.
Given the vagaries of the rating system, however, a lack of stars is no reason to dismiss a hotel out-of-hand, and some of St. Petersburg's unrated hotels actually offer quite high standards of accommodation, although on-site services are likely to be very limited.
45, Furshtatskaya Ulitsa, St. Petersburg, 191123, Russia
Show on map
2.88 km
Nearest metro:
Chernishevskaya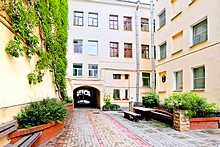 This well-established, family-run property boasts a picturesque location in a courtyard right next to the Tauride Garden, and just over 200 meters from Chenyshevskaya metro station. The Austrian Yard Aparthotel consists of four low-cost studio apartments and, while there is little on offer in the way of extra amenities, the friendly staff can provide most business and concierge services, while there are plenty of eateries and shops nearby.
»»»
14, Sytninskaya Ulitsa, St. Petersburg, 197101, Russia
Show on map
2.14 km
Nearest metro:
Gorkovskaya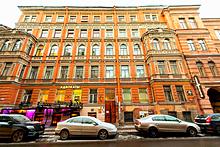 A popular small hotel on the Petrograd Side, the Mary Hotel offers 18 attractively decorated modern guest rooms, all with air-conditioning. The hotel can also boast a very good in-house restaurant specializing in locally sourced fish. On-site facilities are otherwise limited. The location of the Mary Hotel is excellent, however, on a quiet and picturesque side street less than ten minutes' walk from the Peter and Paul Fortress and close to Gorkovskaya metro station.
42, Naberezhnaya Reki Moyki, St. Petersburg, 191011, Russia
Show on map
363 m
Nearest metro:
Admiralteyskaya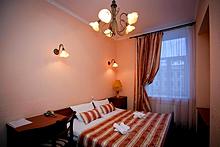 A basic mini-hotel with a great central location in an apartment building next to the Moyka River and only a few steps from Palace Square and the Hermitage, the Residence Moika offers 11 guest rooms that are modern and reasonably well equipped, although on the small side in some cases. Basic concierge and business services are provided at reception, but the hotel does not have any on-site dining or other facilities.
6, Prospekt Kima, St. Petersburg, 198099, Russia
Show on map
4.08 km
Nearest metro:
Primorskaya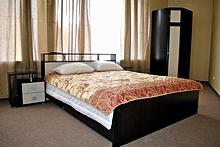 This ultra-budget mini-hotel can boast some of the lowest room rates in St. Petersburg. Located in a Soviet-era residential district around ten minutes on foot from Primorskaya metro station (two stops to the very center of the city), the Romar offers ten simply fitted and fairly dated guest rooms and little in the way of amenities except a small communal kitchen. The hotel is also reasonably convenient for the Lenexpo exhibition center.
22, Nevsky Prospekt, St. Petersburg, 191186, Russia
Show on map
520 m
Nearest metro:
Nevsky Prospekt / Gostiny Dvor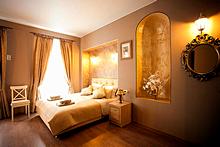 With a superb location for sightseeing, at the corner of Nevsky Prospekt and a beautiful historic boulevard a short walk from Palace Square and St. Isaac's Cathedral, the Silver Sphere Inn is a mini-hotel offering nine guest rooms with very elegant interiors. While the hotel cannot provide any on-sight facilities, staff are very welcoming and there is a great range of dining and entertainment options a short walk away.
74, Nevsky Prospekt, St. Petersburg, 191023, Russia
Show on map
1.85 km
Nearest metro:
Mayakovskaya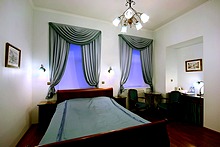 Located in a courtyard off Nevsky Prospekt and just east of the Fontanka River, the Vremena Goda Hotel is well positioned for sightseeing on foot, dining out, and public transport links. Unfortunately, it is on the fourth floor of a building without a lift. The hotel offers 15 inexpensive and recently renovated guest rooms all with air-conditioning, including an apartment with full kitchen. Basic concierge and business services at reception, although English-speaking is not guaranteed.