The meeting and event facilities at the Russ Hotel are not extensive, but the hotel does provide basic venues for business meetings and small-scale conferencing. The two meeting spaces at the Russ Hotel are low-cost and simple, with a bare minimum of equipment available for rent.
Projection screen
Overhead projector
VCR
TV
Flipchart and markers
Conference Halls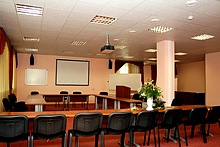 A long, narrow space, the Russ Hotel's Conference Hall offers very basic facilities for presentations, seminars, and training events, with wooden seating arranged in rows for up to 45 people. A minimal range of presentational equipment is available for rent in the hall.
More details ›››
Square: 50 m2
Maximum capacity: 45 people
Meeting Rooms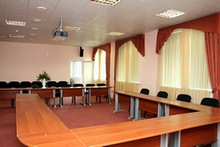 The Russ Hotel's Meeting Room is a budget option for boardroom-style meetings. Unrenovated since the Soviet era, it is surprisingly spacious, and has a certain retro charm in its decor. The room is situated on the 5th floor of the hotel, and could therefore theoretically be used in conjunction with the Conference Hall.
More details ›››
Square: 30 m2
Maximum capacity: 25 people