The Okhtinskaya offers guests the use of two basic but very serviceable meeting venues for small and mid-size corporate events. Both feature simple, ergonomic furnishings and a good range of technical equipment.
Conference Halls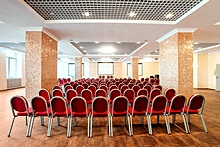 Measuring roughly 98 square meters, the Okhtinsakaya's Conference Hall is decorated in neutral shades of beige and off-white, and has basic, flexible office furniture and a large projection screen.
More details ›››
Square: 98 m2
Maximum capacity: 80 people
Meeting Rooms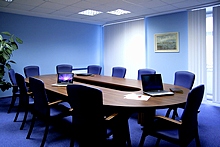 The Meeting Room at the Okhtinskaya Hotel measures 32 square meters, and is decorated in neutral, off-white shades, with comfortable seating for boardroom style meetings. The Meeting Room is well lit, and has large windows permitting plenty of natural light.
More details ›››
Square: 32 m2
Maximum capacity: 16 people