The Ladoga Hotel provides modest facilities for business meetings in the form of one small conference hall measuring 40 square meters. The hotel's friendly staff will help with the organization of small-scale business events.
Projection screen
Overhead projector
TV
Video
Radio mics
Flipchart with markers
Conference Halls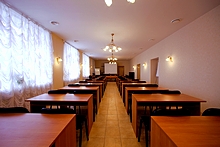 Measuring 40 square meters, the Ladoga Hotel's simply decorated and reasonably priced Conference Hall is a classroom-style meeting venue suitable for training sessions, seminars, and small-scale presentations. The room has limited audiovisual equipment available on request.
More details ›››
Square: 40 m2
Maximum capacity: 40 people