For Russians, neighboring Finland is a byword for quality, cleanliness and service, so it makes sense that the country's premier hotel chain, Sokos, should begin their international operations just across the border. They now have three hotels here, attempting to bring Nordic standards of comfort and design to St. Petersburg.
3a, Bataysky Pereulok, St. Petersburg, 190013, Russia
Show on map
2.84 km
Nearest metro:
Tehnologichesky Institut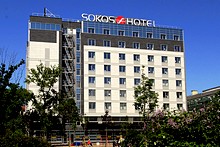 Located just to the south of the main downtown area, the Original Sokos Hotel Olympia Garden is located in a small park and is very convenient for access to Pulkovo Airport, and close to fast public transport (metro) to Nevsky Prospekt and St. Petersburg's main visitor attractions. Accommodation is in very stylish and well equipped modern guest rooms, and the hotel boasts particularly good facilities for business travelers, including excellent and extensive MICE venues. If the location is convenient for you, then this is one of the best deluxe hotels in the city.
»»»
2-4, Birzhevoy Pereulok, Vasilyevsky Island, St. Petersburg, 199004, Russia
Show on map
1.38 km
Nearest metro:
Vasileostrovskaya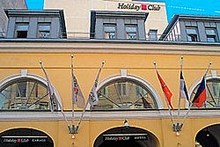 Tucked away in a secluded and picturesque corner of Vasilevskiy Island, the Solo Sokos Hotel Palace Bridge is nonetheless within comfortable walking distance of most major downtown attractions, including the Hermitage and the Peter and Paul Fortress. While accommodation lacks the historic charm of some St. Petersburg's more famous five-star hotels, the facilities and level of service are excellent, the highlight being the hotel's huge and luxurious Spa and fitness centre, which was almost certainly the best in the city.
»»»
11-13, 8-ya Liniya VO, St. Petersburg, 190034, Russia
Show on map
1.87 km
Nearest metro:
Vasileostrovskaya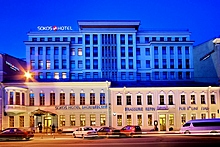 Offering an attractive location for both business and leisure travelers, away from the bustle of St. Petersburg's downtown but within walking distance of many historic visitor attractions, including the Winter Palace, the Solo Sokos Hotel Vasilievsky is the Sokos hotel in St. Petersburg that best combines the Finnish chain's Nordic style and comfort with the historic atmosphere of the city. Deluxe accommodation and a full range of four-star business and leisure facilities are provided. The hotel is also conveniently located for the Lenexpo exhibition centre, about ten minutes' drive away.
»»»