When Radisson opened the Slavyanskaya Hotel in Moscow in 1991, the company became the first Western hoteliers to start operating in Russia. Since then, Radisson has steadily expanded in the country, and now has two top-class hotels in St. Petersburg.
49/2, Nevsky Prospekt, St. Petersburg, 191025, Russia
Show on map
1.98 km
Nearest metro:
Gostiny Dvor, Nevsky prospekt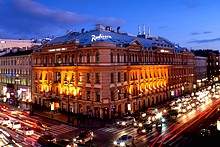 One of St. Petersburg's most affordable five-star hotels, the Radisson Royal is located in a beautiful building by the great 19th century architect Pavel Suzor, located on the corner of Nevsky Prospekt and Vladimirsky Prospekt, two of St. Petersburg's major central thoroughfares. Although accommodation is not the most luxurious in Standard Rooms, and the fitness centre is a little small, the Radisson Royal can boast a full range of five-star services for business travellers, and excellent accommodating service for all.
»»»
5/19, Liteyniy Prospekt, St. Petersburg, 191187, Russia
Show on map
1.98 km
Nearest metro:
Chernishevskaya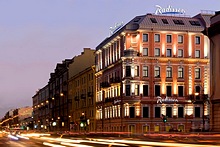 Becoming part of the Radisson family when they took over the Estonian Reval Hotels, this 4-star hotel distinguishes itself from the chain's more conservative offerings with a striking, not to say lurid, aesthetic that takes inspiration from Dostoevsky's novel
Crime and Punishment
. Offering 173 rooms and suites with state-of-the-art amenities, the hotel has a central location close to the beautiful Summer Gardens and convenient for Finland Railway Station. Deluxe amenities include an eye-catching full-service restaurant, fitness centre with Turkish baths, and stylish modern meeting venues.
»»»