Pietro di Gottardo Gonzaga
Painter
Born: Longarone, Italy - 25 March 1751
Died: St. Petersburg - 6 August 1831

Renowned for his masterful use of trompe l'oeil and chiaroscuro, Pietro Gonzaga revolutionised scene painting in Russia, where he worked in St. Petersburg's Imperial theatres for nearly forty years.
Gonzaga studied in Venice with Antonio Vizentini and began his career as a set designer with the Galliari brothers before working at La Scala in Milan for over a decade (1779-1792). In Milan, he met Prince Nikolay Yusupov, personal envoy of Catherine the Great. Either Yusupov, who became Director of the Imperial Theatres in 1791, or Giacomo Quarenghi invited Gonzaga to St. Petersburg, and he quickly established himself as the city's leading scene painter, shocking audiences with the realism of his immaculately executed sets. His first production was of Amore i psiche at the Hermitage Theatre, and Gonzaga would work at all St. Petersburg's major theatres (the Hermitage Theatre, the Bolshoy or Kammeniy Theatre on Teatralnaya Ploshchad and the Maliy Theatre on what is now the Field of Mars), as well as the court theatres at Gatchina, Pavlovsk, and Peterhof. His designs were also used in Moscow and Arkhangelsk (where several of his original sets are still preserved).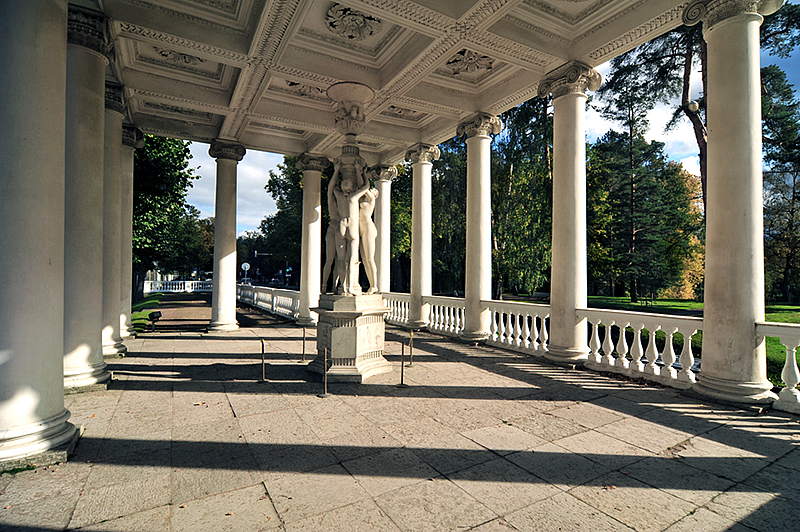 Gonzaga Gallery in Pavlovsk
Furthermore, Gonzaga was involved in the decoration of masquerades and ballets. Ceremonies were also under his purview, including the coronations of Emperors Paul I, Alexander I, and Nicholas I; the funeral processions of Catherine II, Peter III, Paul I, and Alexander I; and the marriage of Grand Duchess Anna Pavlovna and William of Orange.
Although he is considered by some to be the first artist to turn scene painting into a respectable artistic medium in its own right, Gonzaga was never satisfied with his vocation, and yearned to prove himself as an architect so that he could leave something of his works for posterity. Although his repeated applications for architectural commissions were consistently rejected, he did take part in the design and decoration of the park and Grand Palace at Pavlovsk. He landscaped part of the park, and he painted frescoes in several of its pavilions, as well as in the Grand Palace. Unfortunately, nearly all his works in Pavlovsk were destroyed during the Second World War, and it is only the Gonzaga Gallery, a colonnade of the Grand Palace decorated with his tromp l'oeil paintings, that has been fully restored.
Gonzaga also wrote two books in French (published in St. Petersburg), explaining his vision of scene painting and his working techniques. He died in 1831 and was buried at the Volkov Lutheran cemetery, although his tomb has not survived.
Works: Gonzaga Gallery (Grand Palace, Pavlovsk), Sketches and designs in the Hermitage Museum