Pavlovsk Park
Although Pavlovsk's Park has nothing like the architectural wealth that can be seen at Pushkin or Peterhof, it is one of the most charming and extensive green spaces in or around St. Petersburg, and one of the largest landscaped gardens in the world.
The park's design, by Charles Cameron and Vincenzo Brenna - and, it is rumoured, Capability Brown - takes full advantage of the rolling countryside around the Slavyanka River's valley to create delightful vistas of copses, gentle slopes, winding streams and the occasional classical folly.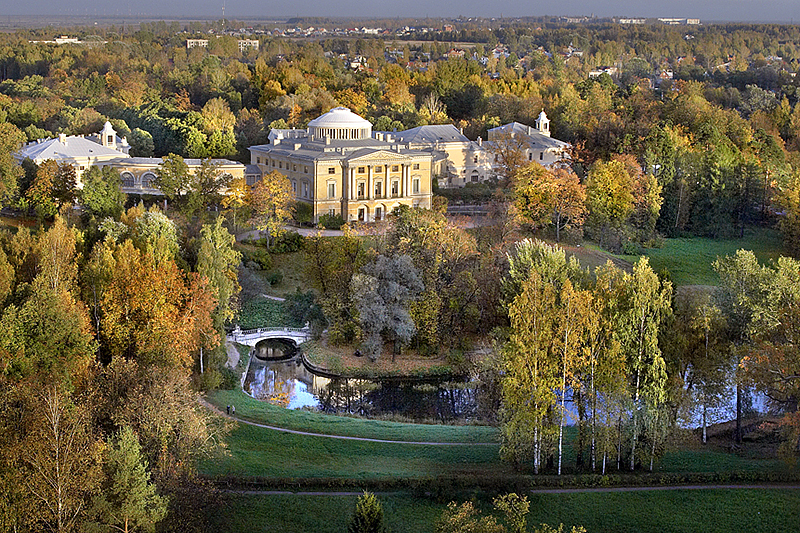 Pavlovsk Park surrounding the Grand Palace
Right next to the Palace, the Private Garden was restricted to only the Imperial family, and its Dutch-style formalism and beds of brightly coloured flowers are in sharp contrast to the idyllic pastoralism of the rest of the park. The Palace stands almost on the edge of the park, although a small section across the main road contains a stretch of the Slavyanka, with decorations including Cameron's simple but striking Obelisk and the faintly ridiculous, gothic Marienthal Fortress, another testament to Pavel's fanatic militarism.
Stretching back to the north and east of the palace, the park covers a massive 607 hectares in total, much of it deep woodland. Although it would take almost a day to explore the whole area, the most interesting sections of the park - and most of the follies - are along the banks of the Slavyanka. From the terrace of the Great Palace, a fine view north reveals the elegant ruins of Cameron's Apollo Column, several delightful stone bridges across the river, and the circular Temple of Friendhip. Slightly further in the distance, the Vokzhalniye Ponds offer boating throughout the summer.
To the east, the river runs past a number of interesting monuments, including Pavel's Mausoleum, built by Thomas de Thomon on the orders of Maria Feorovna, although Pavel's remains are actually interred in the Peter and Paul Fortress, along with the rest of the Romanov Emperors. Also commissioned by the Tsaritsa, the Monument to My Parents is a charming pavilion in honour of her mother and father, the Duke and Duchess of Württemberg. Further south, the Rose Pavilion is a delightful venue for classical music concerts in the summer.
The park at Pavlovsk has been a popular weekend getaway for St. Petersburgers since the advent of Russia's first railway, which ran from the city to Pavlovsk, stopping at Pushkin on the way. It is the ideal place to come in summer for picnicking, with the size of the park making it always possible to find a secluded spot. In winter, the park is practically deserted, and eerily romantic under a fresh fall of snow.
| | |
| --- | --- |
| Open: | Daily, 6 am to 12 pm. |
| Admission: | May 1 to October 31, Daily, 10.00-18.00: Adult: RUB 150.00. November 1 to April 30: Saturday, Sunday and public holidays: 10.00-18.00: RUB 150.00. All other days and times: Free |
| Photo and video: | Free |
| Accessibility note: | Full wheelchair access to the park is available. |