Jean-Francois Thomas de Thomon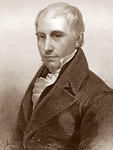 Architect
Born: Berne, Switzerland - 1 April 1760
Died: St. Petersburg - 23 August 1813

A French architect who fled the revolution of 1789 to build a career in Eastern Europe, Jean-Francois Thomas de Thomon is best known for the
Old Stock Exchange
on Vasilyevsky Island, one of the most famous and influential works of architecture in St. Petersburg.
Born to a military family, Thomas de Thomon showed an early aptitude for drawing, and at the age of seventeen was accepted into the Academie d'architecture in Paris. He continued his studies at the French Academy in Rome and, on returning to France, was hired as an architect and draftsman by Charles, Comte d'Artois (brother of Louis XVI and later King Charles X). A royalist and a strict Catholic, he left France in 1789 first for Vienna, where he found some success among the Austrian nobility and met the Russian ambassador, Prince Dmitry Golytsin, whose brother, Alexander, invited Thomas de Thomon to work on the family's country estates in 1798. He came to St. Petersburg the following year, and in 1800 began teaching at the Imperial Academy of Arts.
His first major commission in the city was the reconstruction of the Bolshoy Kamenny Theatre (on Teatralnaya Ploshchad, on the site now occupied by the St. Petersburg Conservatory). This monumental project placed him among the highest ranking architects in the city, and in 1805 he was commissioned to build his masterpiece, the Stock Exchange, which he modeled on the Temple of Hera at Paestum. Thomas de Thomon also designed the square in front of the building, the semi-circular embankment and wharves onto the Neva River, and the magnificent Rostral Columns, all of which make up the Spit ("Strelka") of Vasilyevsky Island, one of St. Petersburg's most famous architectural ensembles.
Work was completed on the project in 1811. In the meantime, Thomas de Thomon also designed the Mausoleum of Paul I in Pavlovsk, and monumental fountains on the road from St. Petersburg to Tsarskoye Selo (1806-1807). Two of the fountains have since been moved to new locations, one opposite Kazan Cathedral and one on Sennaya Ploshchad. He also worked in Odessa, where he built the old Opera House and a military hospital, and designed a Victory Column for Poltava, Ukraine.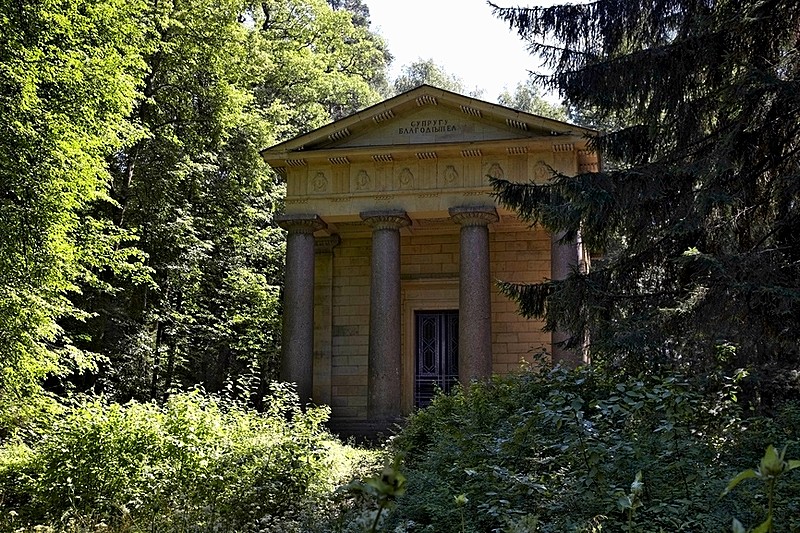 Memorial Mausoleum to Husband and Patron (Paul I) built by Thomas de Thomon in Pavlovsk
Fire struck the Bolshoy Kamenny Theatre in 1811 and, while working on its restoration, Thomas de Thomon fell from scaffolding and died in August 1813. He was buried in the Smolenskoe Cemetery. Although his career was not prolific, his influence as the first architect in Russia to faithfully recreate classical designs for large-scale public buildings was immense.
Works: Old Stock Exchange, Rostral Columns, Countess Laval House, Mausoleum of Paul I (Pavlovsk), Neptune Fountain on Sennaya Ploshchad, Fountain by Kazan Cathedral, Fountain with Sphinxes (Pulkovskoye Shosse)