Passenger ports
St. Petersburg has two passenger ports, one for sea passengers and one for river passengers in the far south-east of the city. While most passengers arriving in St. Petersburg by boat will be part of cruises, and therefore won't have to worry about onward transport, those who aren't are advised to plan their onward journey in advance, as neither terminal is particularly convenient for the city centre or most hotels.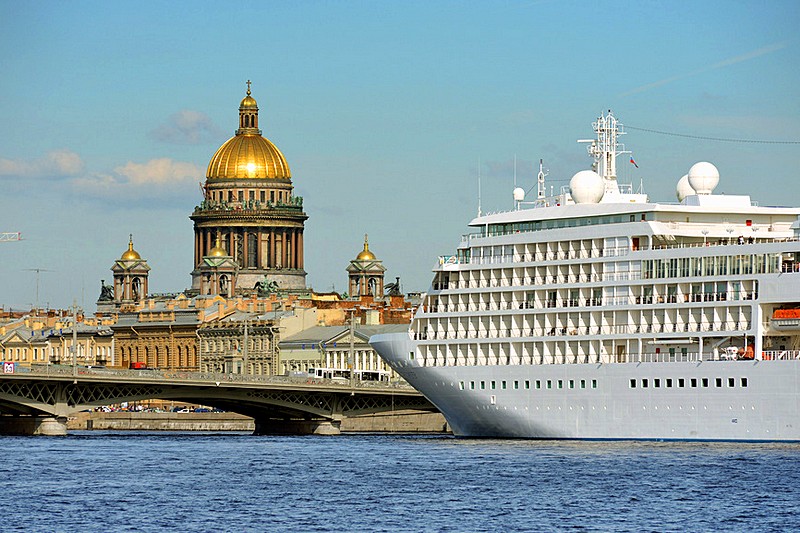 Arrival by boat in St. Petersburg
Sea Station (Morskoy Vokzal)
Located at the western tip of Vasilievsky Island, the Sea Station is the docking point for St. Peter Line ferries from Helsinki, Stockholm and Tallinn. There is no metro station at near the port, but several buses and marshrutka minibuses (K154, K183, K275 and K346) run from the first stop on Bolshoy Prospekt (the road starting diagonally across the square from the terminal building), to Vasileostrovskaya Metro Station (two or three stops). On the green line, Vasileostrovskaya is only one stop west from Gostiny Dvor, in the very centre of the city.
If you prefer to travel by car, it is strongly recommended that you either book a transfer in advance, or phone for a taxi on arrival to avoid being ripped off.
River Station (Rechnoy Vokzal)
The River Station welcomes river cruises from Moscow and the Russian North, and is located in the far south-east of St. Petersburg on Prospekt Obukhovskoy Oborony. It is a little under ten minutes' walk from the terminal to Proletarskaya Metro Station (coming off the boat, turn left and follow the road straight around 400m). Proletarskaya is on the green line, five stops from Mayakovskaya on Nevsky Prospekt. If you would rather travel in the comfort of a taxi, we recommend either booking a transfer, or phoning one of these recommended taxi companies on arrival, as trying to find a taxi on the street will be difficult and/or expensive.