Serafimovskoe Cemetery
Serafimovskoe Cemetery is located in the northwestern part of St. Petersburg and is known for its memorials dedicated to the memory of servicemen and women who died in the line of duty, either in time of war or on active service during peacetime.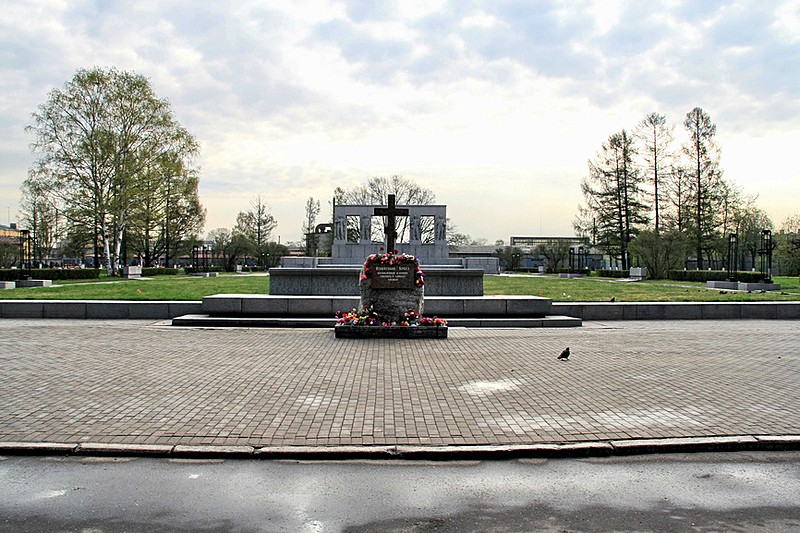 Monument to the courage of defenders of Leningrad during WWII at Serafimovskoye Cemetery
The cemetery was founded in 1905, and a small stone church was built here 1906-1907. The church was consecrated in the name of St. Serafim of Sarov, a popular Russian monk and mystic from the late 18th/early 19th century who had been canonized by the Orthodox Church in 1903. Prior to the October Revolution, most of those buried at the Serafimovskoe Cemetery were paupers, reflecting the economic situation in the surrounding area. For this reason, the Soviet authorities left the cemetery and its church alone.
During the Siege of Leningrad (1941-1944), the Serafimovskoe Cemetery became one of the sites for the mass graves ("fraternal graves" as they are known in Russian) of those who died of cold and starvation, particularly during the savage winter of 1941-1942, when trucks arrived at the cemetery day and night with bodies collected from the city's streets. Nobody can give an accurate figure for the number buried here, but the most conservative estimate stands at well over 100 000.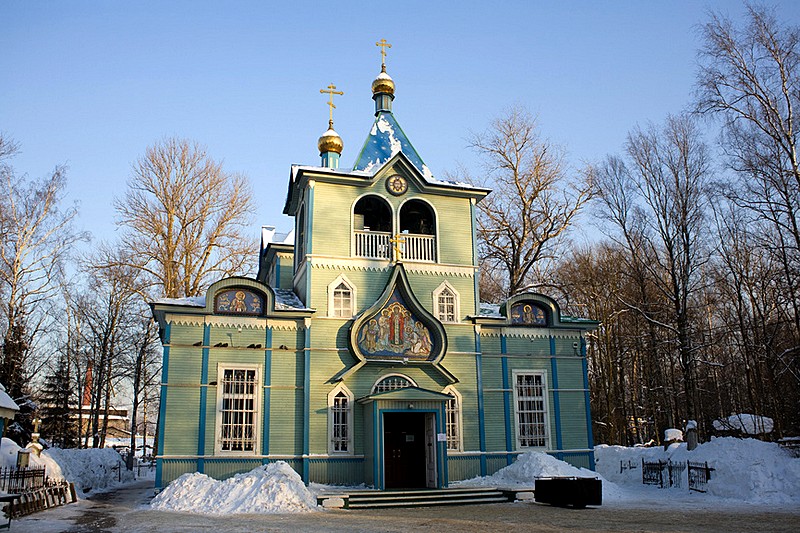 St. Serafim Church at Serafimovskoye Cemetery
The cemetery was significantly expanded after the war. In 1965, to mark the 21st anniversary of the lifting of the siege, a large monument was place on the site of one of the mass graves. A massive granite portico of four arches, it is decorated with figures representing citizens and soldiers during the siege, and inscribed with epitaphs by several contemporary poets.
Among the other notable monuments in the cemetery are those to the sailors drowned aboard the SS Mekhanik Tarasov, which sank in the Atlantic in 1982, to the firefighters who died fighting the blaze at the Hotel Leningrad in 1991, to soldiers who died during the Afghan War, and to the crew of the Kursk nuclear submarine, lost in the Barents Sea in 2000.
| | |
| --- | --- |
| Address: | 1, Serebryakov Pereulok |
| Metro stations: | Staraya Derevnya |
| Directions: | On exiting Staraya Derevnya Metro Station, turn right and then left along Torfyanaya Doroga. The back entrance to the cemetery is to your right about 150 m along the road. |
| What's nearby? | Bolshaya Nevka, Gunzechoyney Buddhist Datsan |