Preobrazhenskoe Cemetery
The Preobrazhenskoe ("Transfiguration") Cemetery, located on the south-eastern outskirts of St. Petersburg, is divided into Jewish and Orthodox cemeteries, the latter renamed Cemetery of the Victims of 9 January in the Soviet period in recognition of the mass grave here for those who died on "Bloody Sunday", the workers protest that sparked the 1905 Revolution.
Preobrazhenskoe Cemetery was founded in 1872 and was the first municipal cemetery in St. Petersburg (administered by the city government rather than the church). Almost immediately it became the preferred burial site for political victims of the Tsarist regime. For example, in 1881 the executed "Pervomartovtsi" terrorists who participated in the assassination of Tsar Alexander II were buried here. In 1901, the bodies of the seven workers who were killed in the Obukhovo Defense, one of Russia's first major industrial actions, were brought here. The corpses of 88 of those who died on 9 January 1905 were placed in a mass grave here. From 1914 to 1916, more than 10 000 soldiers slain in the First World War were buried in a separate. At the end of 1930s, victims of the Great Terror were secretly also brought here.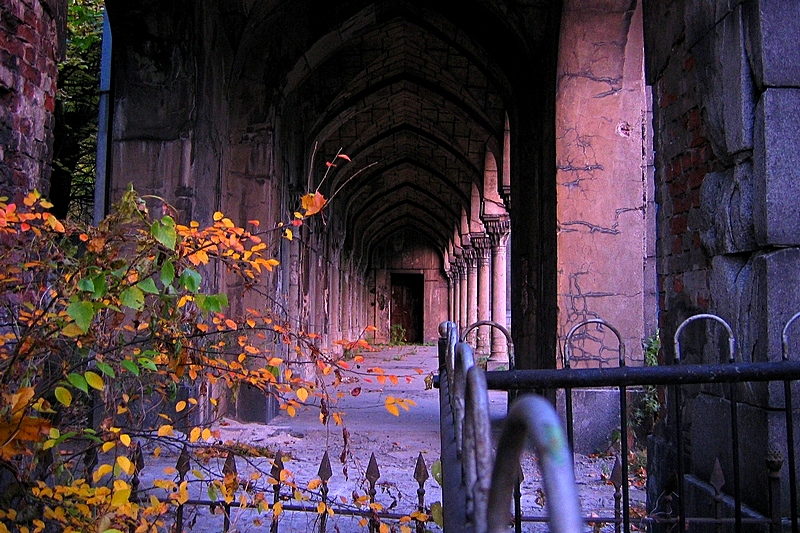 Jewish Synagogue at Preobrazhenskoe Cemetery
During World War II, the cemetery was on the front line of Leningrad's defenses. Four bunkers were built in the cemetery and are preserved to this day as memorials. The other major memorial is the impressive Soviet statue to the victims of Bloody Sunday by sculptor Matvey Manizer. It depicts a muscular worker holding an urn and there is a frieze on the lower part of the plinth showing workers being shot as they try to present their petition.
Beyond the railroad is the Jewish cemetery, founded in 1875. Originally, the site was divided into sections for all non-Orthodox believers, including Muslims, Catholics and Lutherans. However, by 1899 not a single Muslim had been buried here, as plots had to be paid for, which goes against Islamic tradition, while the Lutheran and Catholic cemeteries were used by the poorest members of those confessions, with often the most basic if any tombstones on the graves. The Jewish Cemetery, on the other hand, was well funded by St. Petersburg's Jewish community, and became the final resting place of several famous people, including the sculptor Mark Antokolsky, entrepreneur Samuel Polyakov, publisher and philanthropist Baron David Gunzburg, historian Moses Altman, collector Moses Lesman, architect Mark Khidekel, founder of the Institute of Tuberculous Abram Sternberg, as well as several chief rabbis of Leningrad. Several of the tombs here are richly decorated and in 1912 a beautiful stone building for ablution and the singing of last rites was built, along with several other elegant Art Nouveau structures designed by the architect Yakov Gevirts.
| | |
| --- | --- |
| Address: | 4, Prospekt Devyatogo Yanvarya / 66a, Prospekt Alexandrovskoy Fermy |
| Metro stations: | Obukhovo |
| Directions: | Exit Obukhovo metro station and walk 10 minutes along Prospekt Devyatogo Yanvarya (heading west). |
| What's nearby? | KAD (St. Petersburg Ring Road) |