Novodevichy Cemetery
The Novodevichy Cemetery is a small site that is considered one of the most attractive spots on Moskovsky Prospekt. Of course, it is not as remarkable as its namesake in Moscow, but there is still plenty to see here, namely the graves of numerous distinguished statesmen, military leaders, writers, poets, scholars, artists and entertainers. At one time this cemetery was the most prestigious and well-maintained in the city.
The Novodevichy Monastery was founded on the Tsarskoye Selo Highway in 1845, and from the very beginning of its construction, burials were held there. One of the first people buried in the new cemetery was the designer of the monastery's first buildings, the architect Nikolay Efimov. Burial sites here were quite expensive and there were no free plots. Therefore, most of the tombstones belong to prominent citizens and are expensively decorated. Of particular note are the gravestones of poets Fyodor Tyutchev, Nikolay Nekrasov and Apollon Maykov, the artist Mikhail Vrubel, the famous physician Sergey Botkin, and the chess player Mikhail Chigorin.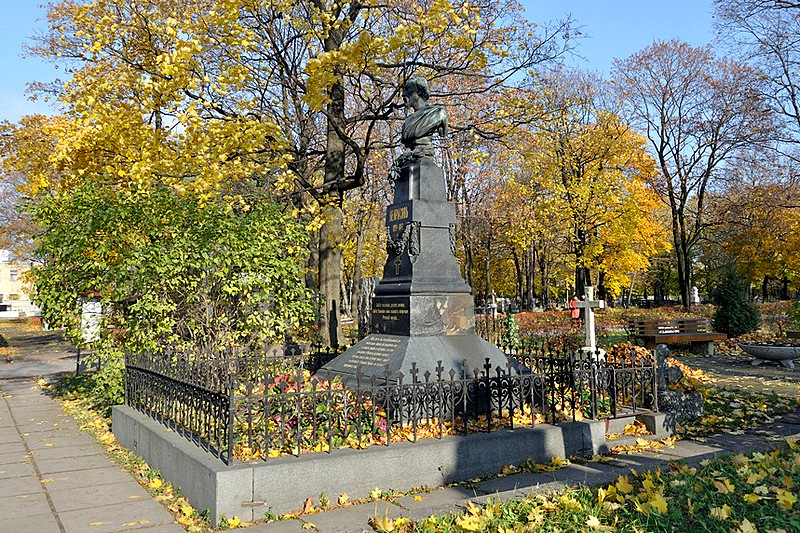 Tomb of poet and publisher Nikolay Nekrasov at Novodevichye Cemetery
Unfortunately, after the Revolution, many graves were plundered and destroyed. Wrought iron fencing, granite and marble headstones, crosses, and sculptures were removed or destroyed. Some tombs were transferred in 1930 to the Alexander Nevsky Monastery - among them the tomb of the artist Alexander Ivanov, the composer Nikolay Rimsky-Korsakov and Pushkin's sister Olga Pavlishcheva. In recent years, the cemetery has undergone renovation.
The Church of Our Lady of Kazan was built in 1912 in neo-Byzantine style at the cemetery. Externally, the building resembles the Hagia Sophia in Istanbul. Although the church was left unfinished, it is richly decorated with ceramic tiles, majolica, cast reliefs and paintings, with frescoes of the Ferapontova Monastery. In the basement of the church is a crypt with 500 tombs. The church has since been restored and consecrated.
| | |
| --- | --- |
| Address: | 100, Moskovsky Prospekt |
| Metro stations: | Moskovskie Vorota |
| Directions: | Exit Moskovskie Vorota Metro Station and turn left. Cross Moskovsky Prospekt, and continue walking north along the road until you reach No. 104. A small alleyway to your right just past the building will bring you into the cemetery. |
| Website: | http://www.devichkaspb.ru/ |
| What's nearby? | Voskresensky Monastery, Ploshchad Moskovskie Vorota, Ligovsky Prospekt |