Bogoslovskoe Cemetery
One of the oldest cemeteries in St. Petersburg, the original Bogoslovskoe Cemtery was established on the Vyborg Side in the first half of the 18th century, and named after the small Church of John the Apostle ("Bogoslov" in Russian). It was located about 2.5km south of the modern cemetery, near the intersection of Arsenalnaya Ulitsa and Mineralnaya Ulitsa. It was used to bury those who died from cholera and other epidemic diseases.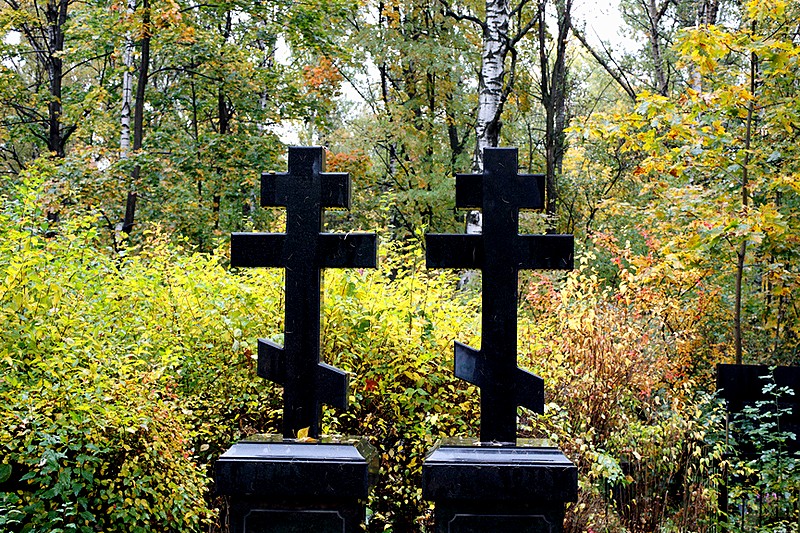 Tomb crosses at Bogoslovskoye Cemetery
The cemetery on the current site was founded in 1844, and the wooden Church of John the Apostle was constructed 1915-1916 (demolished in 1938 and rebuilt in 2000). The cemetery owes its 20th century fame first to the fact that it was used as one of the mass graves to bury the victims of the Siege of Leningrad, and second to the large number of prominent citizens buried here in the post-war years.
An estimated 1.5 million civilians and soldiers died during the 872-day Siege of Leningrad, with the greatest number of fatalities occurring during the bitter winter of 1941-1942, when all supply lines to the city were cut and thousands of residents died each week from starvation and cold. The total number of victims buried at the Bogoslovskoe Cemetery during the siege reaches over 100 000, with 60 000 buried in just a few days in February 1942.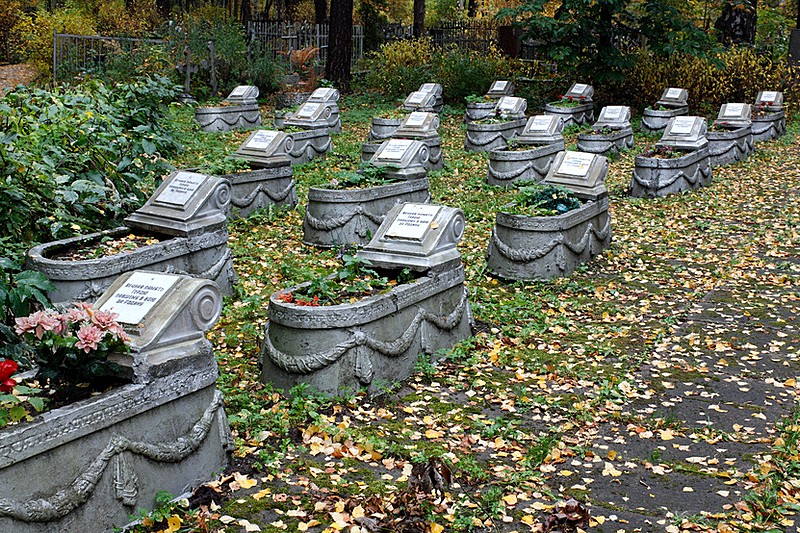 Tombs of unknown soldiers at Bogoslovskoye Cemetery
In the post-war years in the Bogoslovskoe Cemetery was still used for burials of Leningrad/St. Petersburg's artistic, scientific and sporting elite. Notable graves include submariner Alexander Marinesco, the outstanding conductor Yevgeny Mravinsky, children's writer Vitaliy Bianchi, and storyteller and playwright Evgeny Schwartz. In the northern part of the cemetery, the legendary rock star and youth icon Viktor Tsoy is buried. The tomb of the Kino singer is the fourth most visited in the country after the Lenin Mausoleum in Red Square, the Chapel of St. Ksenia of Petersburg at the Smolenskoe Cemtery and the tomb of singer Vladimir Vysotsky at the Vagankovskoe Cemetery in Moscow. Tsoy died in a car accident in 1990 at the age of 28, and remains one of the most popular musicians among Russian teenagers to this day. Twice a year, on his birthday (21 June) and the anniversary of his death (15 August) crowds of young (and not so young) fans gather at his graveside to remember their hero.
| | |
| --- | --- |
| Address: | 31, Prospekt Mechnikova |
| Metro stations: | Lesnaya |
| Directions: | Exit Lesnaya Metro Station and turn right onto Kantemirovskaya Ulitsa, which then becomes Prospekt Marshala Blyukhera. Continue along the avenue around 1 km and turn left onto Laboratorny Prospekt. Walk to the end of the street, turn right onto Prospekt Mechnikova, and the gates to the cemetery are on your left after around 200 m. |
| What's nearby? | Piskarevskoe Cemetery |