Cathedral of St. Andrew the First-Called
Named after the Apostle Andrew, whom Peter the Great considered his personal protector, and who thus became patron saint of Imperial Russia and of the Russian Navy, this beautiful, late baroque, pink-and-white cathedral stands on the corner of Bolshoy Prospekt and 6-aya Linia, in a particularly picturesque part of Vasilyevsky Island.
Peter himself ordered the building of the original Church of St. Andrew on this site, and plans and models for the church has already been chosen when the Emperor died. In 1732, under Empress Anna Ioannovna, a single-storey wooden church was built there. This church was struck by lightening in 1761, and burned to the ground. Alexander Vist, architect of the Senate Building, was commissioned to design a new stone cathedral but, after two years of construction work, one of the arches supporting the building's main dome collapsed, and Vist was dismissed. The job of finishing the cathedral was entrusted to Alexei Ivanov, a professor at the Academy of Arts. The cathedral, a late baroque masterpiece, similar in design to the St. Nicholas Naval Cathedral, was eventually consecrated in 1781.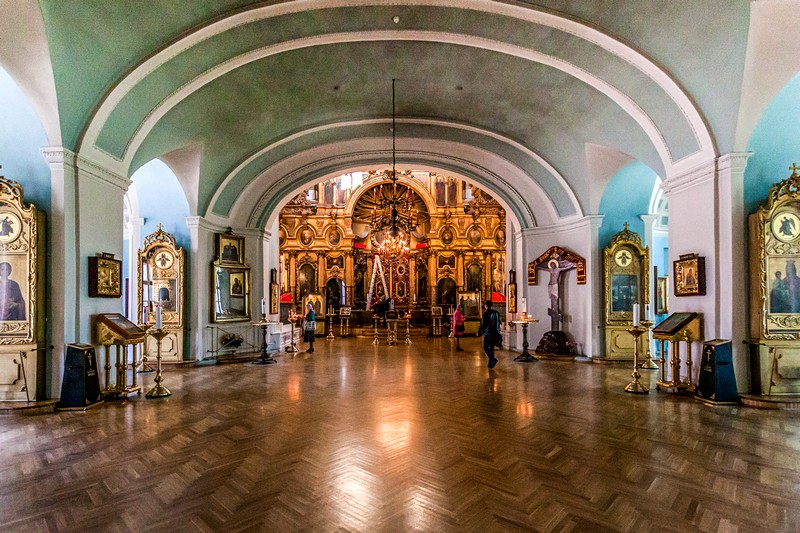 Interior of the St. Andrew the Apostle Cathedral
In the 19th century, two chapels were added to the Cathedral by architect Nikolai Grebenka. The Cathedral of St. Andrew was closed after the Revolution, and given over to various organizations, including the Institute of Ethnography. During the Siege of Leningrad, the Cathedral was severely damaged both by bombs and by shelling. Thanks to the sharp thinking of members of the cathedral's congregation, the famous iconostasis, which had originally stood in the chapel of the Menshikov Palace nearby, was partly saved from the ravages of war and revolution, carefully hidden behind false paneling. Since being returned to the Orthodox Church, the Cathedral has been fully restored, and pride of place inside is given to several 18th century icons, including two - one painted, one mosaic - of St. Andrew.
Address: 11, 6-aya Linia Vasilevsky Island
Metro station: Vasileostrovskaya
From the metro: Exit the station and turn right down pedestrian 6-aya Linia. The Cathedral of St. Andrew is one block down on your left. (5 minutes)
Opening hours: Daily from 9am to 7pm.
This impressive cathedral is one of the essential sights on Vasilevsky Island, St. Petersburg's oldest district. It can easily be combined with visits to the Menshikov Palace and the Academy of Arts. Services are held daily in the Cathedral, and the Cathedral has its own choir school, meaning that visitors will often get the chance to hear Orthodox choral singing inside.
Accommodation near the Cathedral of St. Andrew the First-Called
Dining near the Cathedral of St. Andrew the First-Called
RESTAURANTS:
Editors' picks