German Embassy Building
Whilst many of St. Petersburg's most famous buildings were built by foreign architects, most were journeymen who made their careers in Russia and stayed there. This is perhaps the only building in the city - up until the present day - that was designed by a genuine international star, Peter Behrens.
Less famous than his proteges, who included Le Courbusier, Walter Gropius and Ludwig Mies van der Rohe, Behrens is considered the first industrial designer for his revolutionary work with AEG, and the father of German modernist architecture. He was commissioned in 1911 to build the replacement for an 18th century mansion that had been bought by the German Emperor as his representative mission in St. Petersburg in 1873.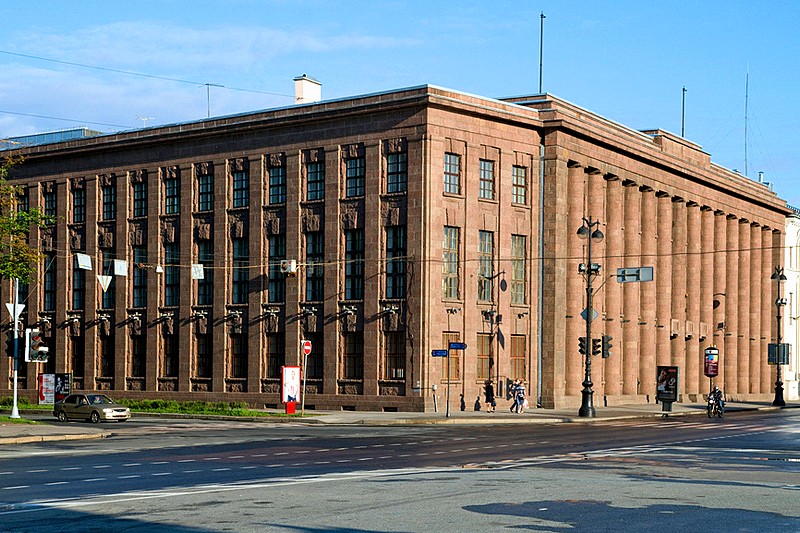 Former German Embassy building on St. Isaac's Square
Behrens' design, a monolithic red-granite block with minimal but muscular classical decoration, exactly anticipated the architecture that would come to the fore two decades later under Stalin (and under Hitler in Germany) but caused a scandal among the Petersburg public. The thick columns decorating the facade were compared to Bavarian sausages, and the figures of Castor and Pollux in the huge sculptural group that crowned the building to burly grooms.
The interiors of the building, lavishly decorated in contrast to its facades, were sacked by an angry mob on the outbreak of war in 1914. They burnt the Throne Room, smashed a valuable collection of Sevres porcelain, and even managed to topple part of the statuary from the roof of the building. It was never restored. After the Second World War, the building became home to the Institute of Semiconductors, and it is now occupied by offices of the Ministry of Justice.
| | |
| --- | --- |
| Address: | 11, Isaakievskaya Ploshchad |
| Metro: | Admiralteyskaya |
| Getting there: | On leaving the metro, turn right then right again down Bolshaya Morskaya Ulitsa. When you get to Isaakievskaya Ploschad (St. Isaac's Square), you will see the building slightly to your right across the gardens. |
| What's nearby? | Isaakievskaya Ploschad (St. Isaac's Square), Moyka River, Siniy Most (Blue Bridge), Bolshaya Morskaya Ulitsa, Mariinskiy Palace, St. Isaac's Cathedral, Zubov Mansion, Voznesenskiy Prospekt |
Dining near the German Embassy Building
RESTAURANTS:
Editors' picks