The General Staff and Ministries Building
Curving 580 meters around the southern side of Palace Square, the General Staff and Ministries Building matches the Winter Palace opposite for scale and grandeur. Built 1819-1829 by the undisputed master of Russian Empire architecture, Carlo Rossi, its west wing housed the Headquarters of the General Staff of the Russian Army, while the east wing was home to the Ministry of Finance and the Ministry of Foreign Affairs.
The two wings are connected by the building's magnificent triumphal arch, which leads from Palace Square onto Bolshaya Morskaya Ulitsa. Designed to commemorate victory over Napoleon in 1812, the walls of the archway are decorated with figures of the Goddess of Glory flying on canon balls, while the arch on the Palace Square side is crowned with a magnificent sculpture of Glory in her Chariot of Victory, pulled by six horses, the outer two of the team held by warriors.
Designed by Stepan Pimenov and Vasily Demuth Malinovsky, this immense sculptural group was originally to be cast in iron and would weigh 80 tons. Rossi feared the weight was too great for the archway, and a solution was reached by casting only the base (the chariot and two warriors) in iron, while the rest of the figures were made from hammered copper on a steel frame. Even so, many were nervous when the sculpture was being installed, and legend has it that Rossi himself climbed to the top of the archway to quell the fears of onlookers.
The triumphal arch was ready in time for victory celebrations after the Russo-Turkish War of 1828-1829, and also played a central role in celebrations on 8 July 1945, when Soviet troops returning victorious from the Great Patriotic War marched through it onto Palace Square.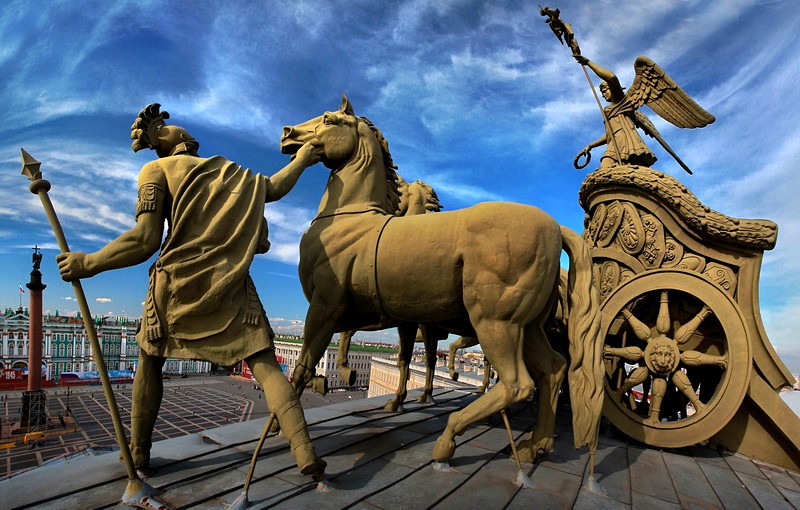 Fragment of the Chariot of Victory on the arch of the General Staff Building
After the October Revolution, the east wing was taken over by the People's Commissariat of Foreign Affairs and the Police Administration. It was transferred to the State Hermitage Museum in 1993, and will eventually be used to display the museum's 19th and 20th century collections. The west wing has continued to house the headquarters of the Western (formerly Leningrad) Military District.
| | |
| --- | --- |
| Address: | 6-12, Dvortsovaya Ploshchad |
| Metro: | Admiralteyskaya |
| Getting there: | From the metro, turn right then left along Bolshaya Morskaya Ulitsa. Cross Nevsky Prospekt and walk straight on 100m to the archway onto Palace Square (Dvortsovaya Ploshchad). |
| What's nearby? | Palace Square (Dvortosvaya Ploshchad), Dvortsovaya Naberezhnaya (Palace Embankment), Millionnaya Ulitsa, Nevsky Prospekt, Winter Palace, Admiralty, Winter Channel, Alexander Column |