Trinity Bridge
The Trinity (Troitsky) Bridge was opened in 1903 as part of the celebrations of St. Petersburg's 200th anniversary. It was the third permanent bridge, after Blagoveshchenskiy Bridge and Liteiniy Bridge, to be laid across the River Neva, running form just north of the Field of Mars on the left bank of the river to the Petrograd Side next to the Peter and Paul Fortress. Measuring 582 meters, it is the second longest bridge in the city, one of the busiest, and also one of the most beautiful thanks to its spectacularly ornate Art Nouveau design.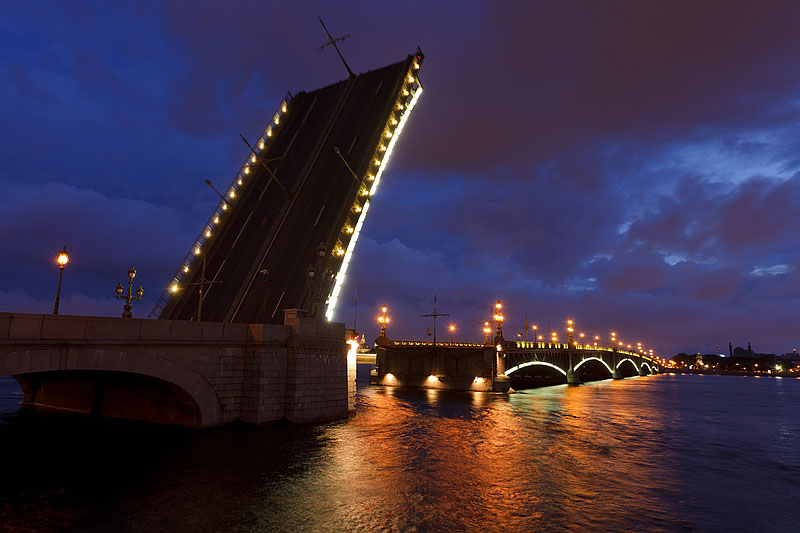 Raised "wings" of Trinity Bridge
There was a clear need for a permanent bridge in this area from the early 19th century, but it was not until 1892 that a tender was announced for designs. The competition attracted international attention, and the initial winner was the company of Gustave Eiffel, the engineer of Paris's most famous landmark, who had won his early fame designing state-of-the-art railway bridges. Although Eiffel was awarded the princely prize of 6,000 roubles, his design was subsequently ignored in favour of another French company, the Batignolles Building Company.
It was another five years before construction began, with the first stone laid on 12 August 1897, at a ceremony attended by Nicholas II and Felix Faure, the incumbent President of France. The lengthy building process was accompanied by rumours of financial scandal, but the bridge was nonetheless completed on time, and Nicholas II was again present to witness the first official raising of the bridge in the late spring of 1903.
The new bridge was worth the wait. It has a total of nine spans - three stone spans closest to the right bank, five fixed steel spans and one bascule steel span adjacent to the left bank. The original opening system featured two symmetrical wings, but was replaced in 1967 by a single 43-meter rising wing. The bridge's elegant, low outline is complemented by a wealth of decoration, including beautiful tripod streetlamps, curving cast-iron railings and granite obelisks topped with two-headed Imperial eagles, which in its opulence recalls Paris's Pont Alexandre III.
The bridge's name refers to the Trinity Cathedral, which once stood by the river on the Petrograd Side. The name was changed to Bridge of Equality in 1918, and the Cathedral was destroyed soon after. In 1934, the bridge was renamed to honor Sergei Kirov, revolutionary and Bolshevik leader of Petrograd. The original name was only restored in 1999.
Timetable of bridge openings: here
Dining near the Trinity Bridge
RESTAURANTS:
Editors' picks