For:

Good dining
Beautiful cathedral

Against:

Lack of hotels
Bad public transport
Very dirty in parts
The centre of St. Petersburg's local government and home to the offices of numerous big companies, this district in the north-west of the historic downtown is usually only of interest to visitors for the glorious Smolny Cathedral, possibly the most beautiful church in St. Petersburg. Otherwise, the area along Suvorovskiy Prospekt and around Smolny itself is mostly taken up with administrative buildings and elite residential complexes, as well as some of St. Petersburg's most expensive restaurants, while further east towards the Neva River, it rapidly descends into one of the grottiest parts of the city center.
If you're visiting St. Petersburg on business, of course, you may need to stay in the area. Unfortunately, however, the choice of hotels is very poor. As there is no metro station in the vicinity either, you'll either have to settle for second-rate accommodation, or stay elsewhere and include a lot of taxi rides in your budget.
Recommended accommodation:
18, Suvorovsky Prospekt, St. Petersburg, 191036, Russia
Show on map
3.11 km
Nearest metro:
Ploshchad Vosstaniya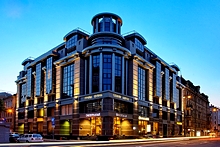 This hotel's claims to five stars have always been somewhat tenuous, the more so the older it gets. With that in mind, however, it's a reasonably attractive superior property, with a good location on the southern stretch of Suvorovskiy Prospekt. The chintzy interiors of guest rooms are not unpleasant, and the Spa and fitness centre are of a respectably high standard. It's possible to walk from the Grand Hotel Emerald to Moscow Station in just over ten minutes.
»»»
39, Ulitsa Tavricheskaya, St. Petersburg, 191015, Russia
Show on map
3.63 km
Nearest metro:
Chernyshevskaya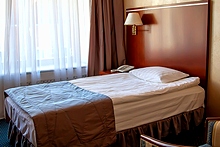 Managed by the city administration, this small hotel is located on the east side of the Tauride Garden in one of the prettiest parts of the neighborhood, although its far from convenient for public trasnport or sightseeing. The hotel itself has a rather institutional atmosphere and little in the way of facilities. Guest rooms are comfortable reasonably elegant, however, but not really deserving of four stars or the comparatively hight rates.