For:

Good transport links
Variety of low-cost accommodation
24-hour shopping and dining

Against:

Noisy and dirty in places
The area around Moscow Railway Station is bustling and lively round-the-clock, as is typical near any major railway hub. It is not, however, particularly dangerous or insalubrious, with the possible exception of Ulitsa Goncharnaya, the narrow side street running straight past the station which carries the brunt of the eastbound traffic out of the city centre, and of the flow of downtrodden drunks spilling off suburban trains. In fact, "Old" Nevsky, the stretch of Nevsky Prospektt that lies between Ploshchad Vosstaniya and the Alexander Nevsky Monastery to the east, has gone through a remarkable transformation in the last decade, from being probably best-known as St. Petersburg's red-light district to now being lined with the city's most up-market boutiques.
In terms of accommodation, the area can offer a huge choice of hotels, hostels and vacation apartments. Apart from being convenient for train travel, the area boasts uniformly excellent transport links, and can also offer a very wide variety of dining and shopping opportunities day and night. While the area is not going to be anyone's first choice for atmosphere or architectural elegance (Ligovsky Prospekt, in particular, is a singularly charmless and characterless thoroughfare), it does offer exceptional convenience and choice of good-value accommodation. Also, if noise is your prime concern, the far eastern part of the neighborhood around Ploschad Aleksandra Nevkogo is surprisingly tranquil at night.
Recommended accommodation:
170, Nevsky Prospekt, St. Petersburg, 191024, Russia
Show on map
3.76 km
Nearest metro:
Ploschad Alexandra Nevskogo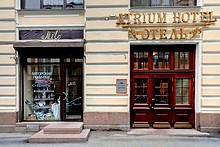 This small standard hotel a short walk from Ploshchad Aleksandra Nevskogo offers 36 modern and simply fitted and excellent value guest rooms, as well as six apartments with full self-catering facilities. Praised for its friendly service and individual attention to guests, the Atrium Hotel also offers an on-site pub and restaurant. The location is very peaceful, while proximity to the metro means you can be at the Hermitage or Peter and Paul Fortress, for example, in only 20 minutes.
»»»
87/2, Nevsky Prospekt, St. Petersburg, 191036, Russia
Show on map
2.81 km
Nearest metro:
Ploshchad Vosstaniya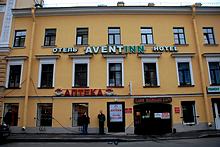 Value is the main selling point of this small hotel just opposite Moscow Railway Station. Offering 24 guest rooms that more than adequately equipped considering the price, the AventInn boasts exceptionally low rates that make it one of the cheapest hotels in the city centre. There's no restaurant, but there are 24-hour eateries, bars and food stores a few steps away. The location is not the prettiest, but is exceptionally convenient.
61, Ligovskiy Prospekt, St. Petersburg, 191040, Russia
Show on map
2.68 km
Nearest metro:
Ploshchad Vosstaniya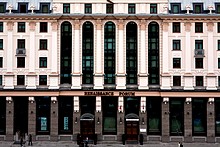 Situated in a brand-new building across Ligovsky Prospekt from Moscow Railway Station, the Crowne Plaza is an exceptionally good chain hotel by St. Petersburg standards, with unusually elegant and well-equipped guest rooms as well as a full range of four-star business and leisure facilities including 24-hour fitness centre. The Crowne Plaza is very convenient for public transport, with the metro just across the road.
»»»
33-35, Ligovsky Prospekt, St. Petersburg, 191036, Russia
Show on map
2.64 km
Nearest metro:
Ploshchad Vosstaniya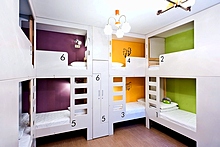 Located on Ligovsky Prospekt just north of Ploshchad Vosstaniya and Moscow Railway Station, this is St. Petersburg's largest backpacker hostel and, while it lacks the character and friendliness of some of its smaller rivals, the Graffiti L does offer clean and quite stylish accommodation, including a large number of low-cost private rooms, as well as very efficient service. Highly recommended for groups on a budget, the Graffiti L is also well worth considering for cheap last-minute accommodation.
54, Ligovsky Prospekt, St. Petersburg, 191040, Russia
Show on map
2.82 km
Nearest metro:
Ploshad Vosstaniya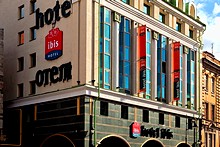 The first standard hotel from an international chain to open in St. Petersburg, the Ibis St. Petersburg Centre is a reliable option for fans of Accor's low-cost brand. About 300 meters south of the Moscow Station, it does not boast the most attractive location, but has excellent transport links. Clean, plain accommodation at low prices is the main attraction, while the range of business and concierge services also sets the Ibis above most of its local 3-star rivals.
»»»
89, Nevsky Prospekt, St. Petersburg, 191036, Russia
Show on map
2.88 km
Nearest metro:
Ploshad Vosstaniya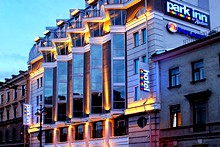 A busy business hotel located just a few steps from Moscow Railway Station, the Park Inn Nevsky is considerably more appealing than the city's other Park Inns, offering simple but attractively fitted modern accommodation and a good range of superior business and leisure facilities, including a small 24-hour gym. The hotel's Paulaner gastro pub and microbrewery is also very popular. Street noise can be an issue on lower floors.
»»»