Pushkin (Tsarskoye Selo) and Pavlovsk
The town of Pushkin (formerly Tsarskoye Selo) lies just outside St. Petersburg and has a marvelous ensemble of palaces and parks. It is particularly famous for its impressive baroque Catherine Palace, where Empress Catherine the Great lived and died. The palace was almost totally destroyed during World War II, but has risen like a phoenix from the ashes due to an extensive restoration program undertaken since the war.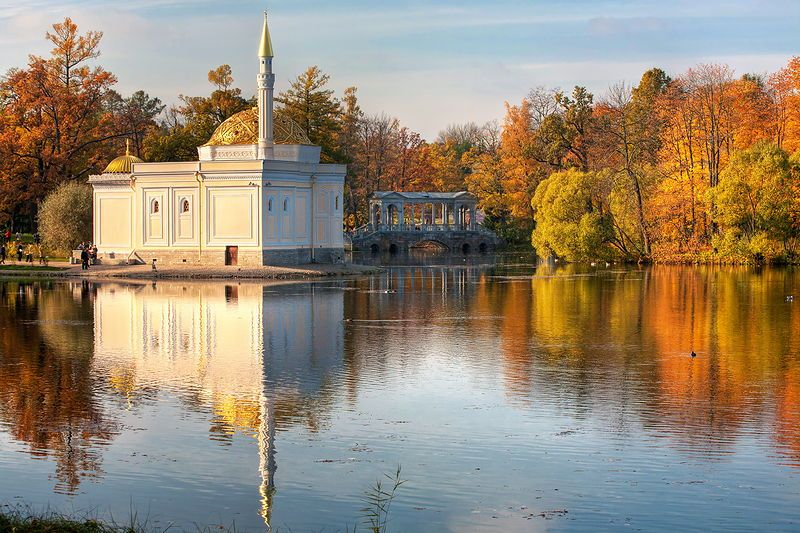 Turkish Bath and Marble Bridge in Catherine Park in Tsarskoye Selo (Pushkin), south of St. Petersburg
The palace we see today was designed by the Italian architect Bartolomeo Rastrelli, the creator of the Winter Palace and Smolny Cathedral. Most of the restored interiors date back to the time of Empress Elizabeth, the daughter of Peter the Great, though there are some early 19th century interiors too. Catherine the Great chose to live in a separate wing of the palace, and even at the age of 60 she quite happily walked the length of the palace to reach the building's private church every day.
Enjoy a visit to the palace, stroll along the alleys of the park with its numerous pavilions, ponds and sculptures and don't forget to take a look at the Lyceum (Litzei) just next door to the palace, a 19th century school for the elite, where the famous Russian poet Alexander Pushkin and many other well-known Russian figures studied.
Further down the road visitors will find the Aleksandrovsky Palace, the favored home of the last Russian Tsar Nicholas II. It is from here that the whole Imperial family left in 1917 to travel to Yekaterinburg, where they were brutally murdered by revolutionaries. (Unfortunately, the palace is NOT open to the public).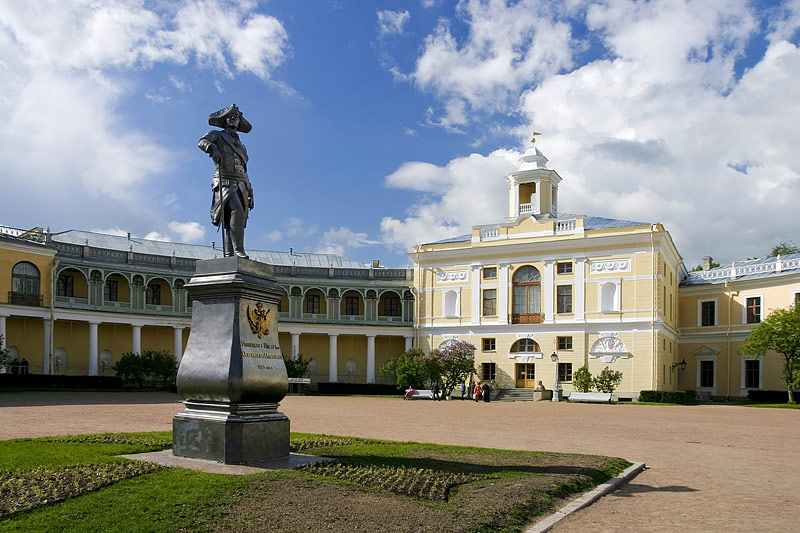 Grand Palace of Paul I in Pavlovsk royal estate, south of St. Petersburg
(The Catherine Palace is open from 10 am to 5 pm and closed Tuesday and the last Monday of the month)
Just a few miles away from Pushkin lies the Imperial Estate of Pavlovsk, the residence of Emperor Paul I, the son of Catherine the Great. The estate's magnificent palace sits on hill overlooking an English-style landscaped park, with a beautiful river running through it.