Peterhof
Peterhof is an immensely luxurious and beautifully preserved Imperial estate, founded in 1710 by Peter the Great on the shore of the Gulf of Finland (Baltic Sea). It combines several ornate palaces, a number of beautifully landscaped parks and a dazzling array of magnificent statues and fountains, lending it the epithet "The Russian Versailles".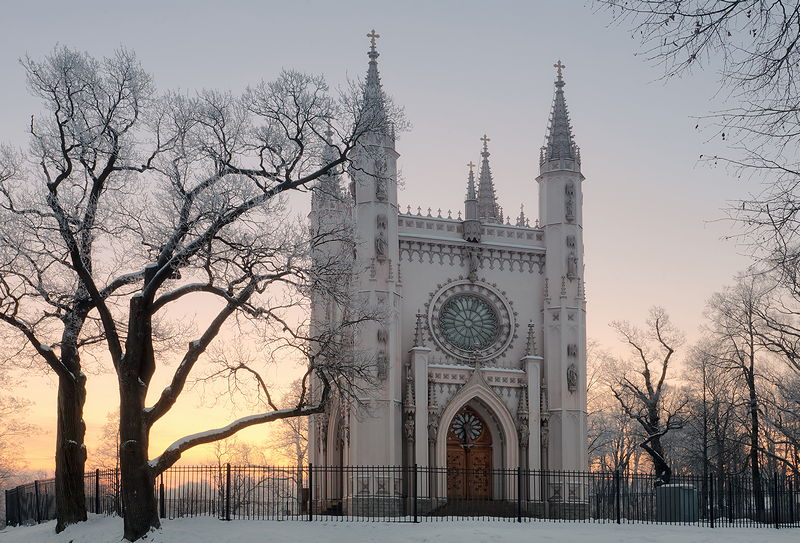 Gothic Cappella in Alexandria Park in Peterhof
The focal point of both the Lower Park and the Upper Garden is the magnificent Grand Palace (Bolshoi Dvorets) with the Grand Cascade (Bolshoi Kaskad ) in front of it. The original palace was built for Peter the Great between 1714 and 1725 and was later remodeled by the Baroque architect Bartolomeo Rastrelli, the architect of the Winter Palace in the center of St. Petersburg. Despite all the damage done to the Grand Palace during WWII, its interiors were meticulously restored to their former glory and are truly breathtaking.
The Grand Cascade flows spectacularly from beneath the palace towards the Baltic Sea and is one of the largest fountain ensembles in the world. From the Grand Cascade's largest fountain, decorated with a magnificent gold statue of Samson battling with the lion, a channel flows through the park to the pier, where hydrofoils and boats from St. Petersburg dock. Multiple fountains and pavilions (the Monplaizir Palace, the Marlyand the Hermitage - not to be confused with the Hermitage museum) are scattered throughout the park and in a quiet corner of the Alexandria Park visitors can wander through the carefully preserved Cottage palace of Nicholas I.
The Upper Garden is a pretty baroque "formal garden" which separates the Grand Palace from the St. Petersburg-bound highway. Beyond the limits of the seemingly endless royal parks lies the town of Peterhof. With a population of 82,000 people, it is renowned throughout Russia for the "Raketa" wristwatches, which are produced there.
Peterhof derives its name from the German for "Peter's Yard" or "Peter's Home". Note, that between 1944 and the early 1990s the town was called Petrodvorets, the Russian equivalent of Peterhof, and some guidebooks might still refer to it as that.
In the summer time the most impressive and enjoyable way to reach Peterhof is by hydrofoil, which takes about 50 minutes from the pier outside the Winter Palace.
Open: 10 am to 5 pm The Grand Palace is closed Monday. The fountains work from early May to early October.