Neva River
The Neva River is an essential part of St. Petersburg's charm. Many generations of locals and visitors to the city have been completely enraptured by long, evening walks along the banks of the Neva during the city's famous White Nights. Very few things can be more romantic than strolling along the Neva's granite-clad embankments and admiring the city's open bridges, the marvelous architecture and the large ships as they pass by.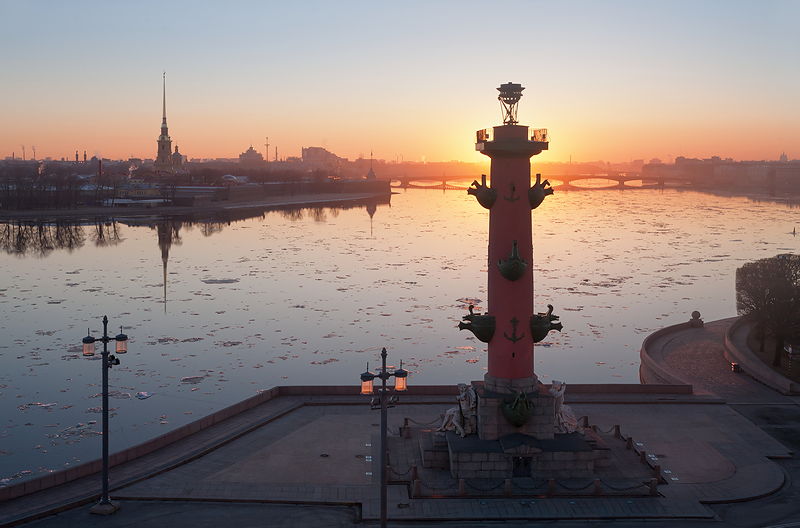 Neva River
Since the foundation of the city, the Neva was intended to be the "main street of the city". Throughout most of the 18th century there were no bridges across the river and people were ferried from one bank to the other, just the way Peter the Great intended when he founded his "Venice of the North".
The Neva River is only 46 miles long and flows from Lake Ladoga to the Gulf of Finland, in the eastern part of the Baltic Sea. Before joining the Baltic, the Neva splits into several branches forming a delta, where downtown St. Petersburg is located. On average the river is 1300-2000 feet wide, but near the Peter and Paul fortress and the Hermitage it exceeds 2600 feet. The river is covered with ice between mid-December and early April and during this period ships are unable to navigate the river. But, whatever the season, the Neva River is a wonderful accompaniment to the architectural splendor of the Winter Palace and Hermitage, the Admiralty, the Peter and Paul fortress, the Summer Gardens and the major landmarks that stand on its banks.