Nikolskaya Ploshchad (St. Nicholas Square)
Judging Nikolskaya Square solely by its location - it is surrounded on both sides by the Griboyedov Canal and the Kryukov Canal - confirms its relationship with the water and the sea. Not surprisingly, sailors' barracks once stood here alongside one of the most beautiful churches in St. Petersburg, the Saint Nicholas' Naval Cathedral.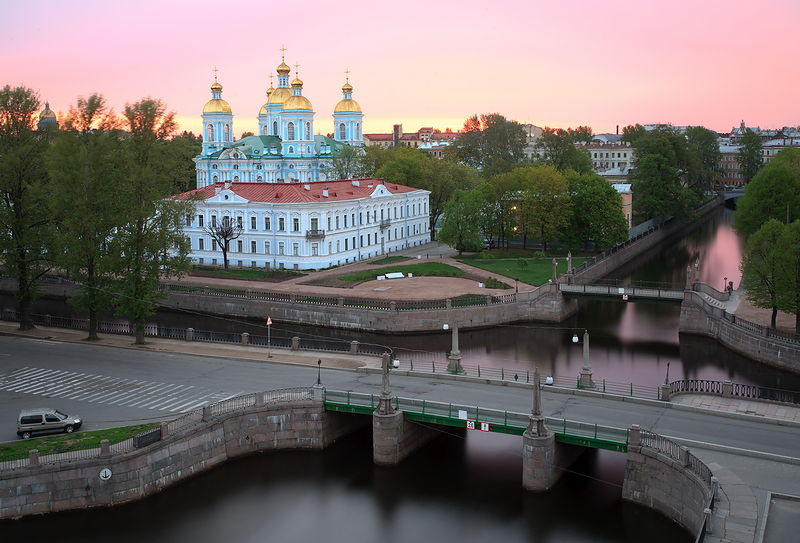 Intersection of canals at Nikolskaya Ploshchad (St. Nicholas Square)
Nikolskaya Square was planned in the first half of the 18th century by architect Peter Eropkin. At that time it was known as Admiralteskaya Sobornaya Square and was designed specifically to house the sailors in the barracks. From 1753-1762, the architect Sava Chevakinsky built the gigantic three-belled Saint Nicholas' Naval Cathedral. The elegant baroque church was consecrated to celebrate the victories of the Russian fleet. Nearby on the promenade on Kryukov Canal, a great, beautiful bell tower was constructed.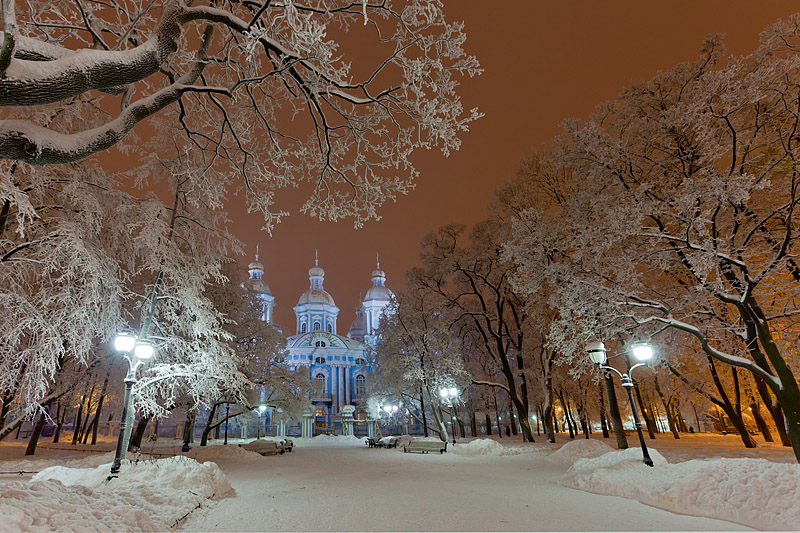 Nikolskaya Ploshchad in winter
Since 1821, the area in front of Saint Nicholas' Naval Cathedral has been called Nikolskaya Square. In the southern part of the area next to the Griboyedov Canal there was once a large stone market known as Nicholas Market, the ruins of which can still be seen today. Behind the cathedral was a park, where in 1908 the Tsushima obelisk was erected in memory of the victims of Tsushima, a naval battle of the Russian-Japanese War of 1904-1905 which claimed the lives of many Russian sailors. In the years 1918-1922, the park became a burial site for dead Bolsheviks who participated in the Revolution and the Civil War. In their honor, Nikolskaya Square was renamed Communard Square from 1923 to 1991.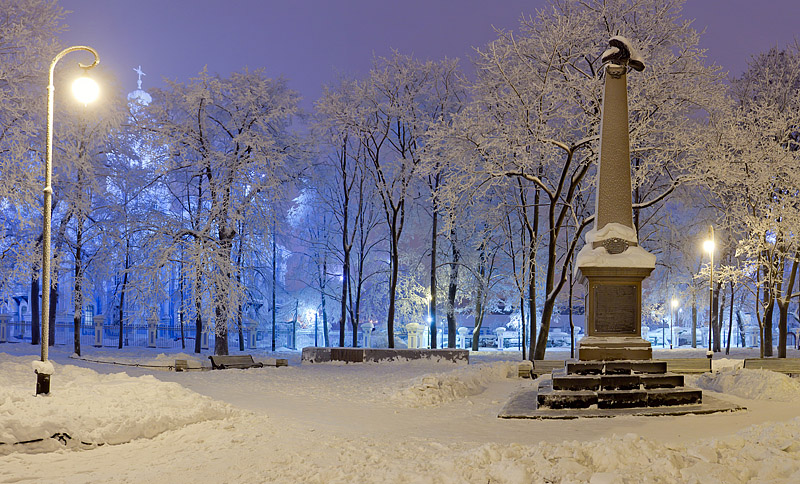 Tsusima Battle Memorial Obelisk at Nikolskaya Ploshchad
Despite this atheistic name, the area has always attracted many religious believers. After all, Saint Nicholas' Naval Cathedral was the only church in Leningrad/St. Petersburg that was not closed even during the worst years of the German blockade and the persecution of the Orthodox Church. Today Nikolskaya Square's magnificent scenery attracts many tourists as well as city residents.
| | |
| --- | --- |
| Metro stations: | Sadovaya |
| Directions: | Exit Sadovaya metro station and walk or ride public transportation along Sadovaya Street to Nikolskaya Square |
| What's here? | Saint Nicholas' Naval Cathedral |
| What's nearby? | Griboyedov Canal, Kryukov Canal, Sadovaya Street, Mariinsky Theatre, Fontanka |
Dining near the St. Nicholas Square
RESTAURANTS:
Editors' picks