Ploshchad Lenina (Lenin Square)
This square, located between the Finland Station and the Neva River, is best known for its impressive statue of the Father of the Russian Revolution, Vladimir Lenin, and a charming light and music fountain which is popular in the summertime.
In the 18th century, the territory was a workers' settlement on the very outskirts of the city, and was called Wolf's Field in recognition of the wolves roaming the surrounding forest. Rope and yarn shops were abundant, and the area was also home to a Dutch brewery. Later it housed a military training ground and barracks. At the beginning of the 19th century the Mikhailovsky Artillery School, now known as the Artillery Academy, was built.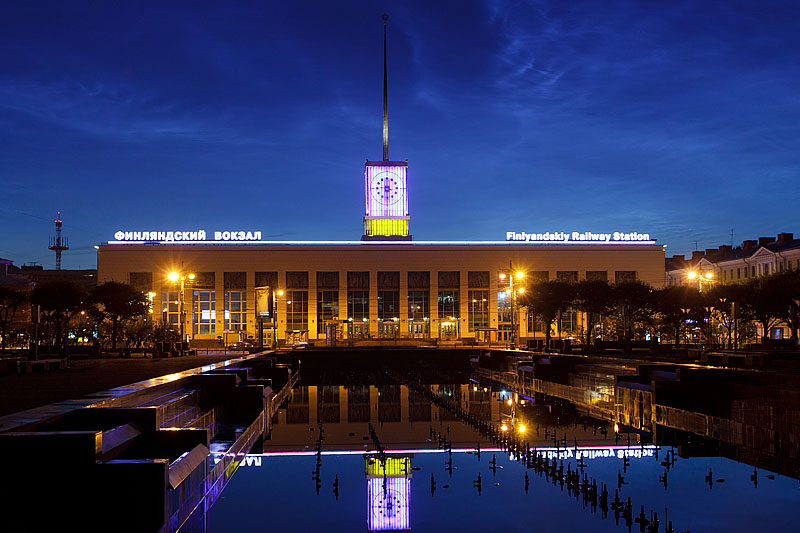 Night view of Ploshchad Lenina (Lenin Square)
In 1870, the railway line to Helsinki and the first building of the Finland Station were built. The railway contributed to rapid development of the whole district. In particular, to the west of the station an elegant apartment building in eclectic style, designed by architect Pavel Suzor for the employees of the Finnish Railway. Sadly, in the late Soviet period part of the building which contained a communal bathhouse was demolished.
In April 1917, Lenin returned from exile to Finland Station to lead the Russian Revolution. Standing on an armored car, he gave one of his most famous speeches, inspiring the actions of the Bolsheviks for years to come. Due to this historic event, the square was renamed in his honor in 1924 and two years later the monument to the revolutionary leader was erected, becoming a prototype for hundreds of monuments throughout the Soviet Union.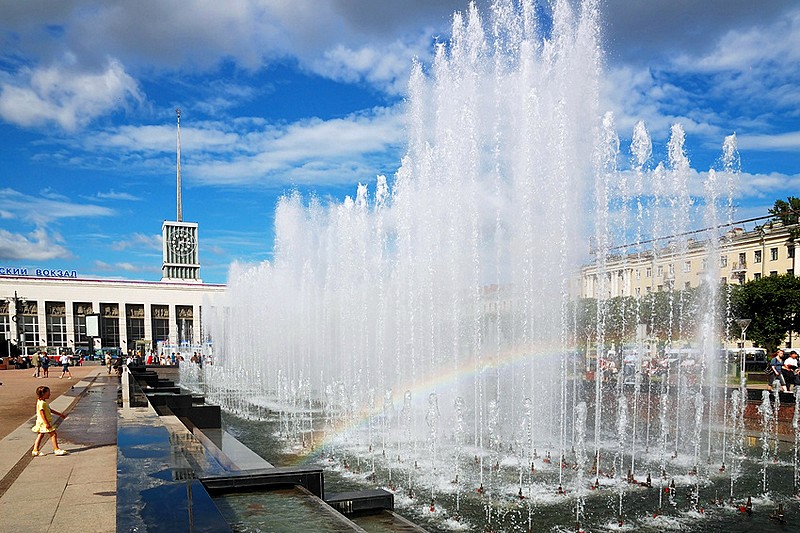 Fountains on Ploshchad Lenina
From 1945-1960, the area underwent a complete renovation, acquiring several Stalinist buildings. The original station building was demolished and replaced in 1950. The Leningrad Concert Hall was built nearby, and during the Thaw of the 1960s became famous for its annual concerts of Shostakovich's works, conducted by the great composer's son, Maxim Shostakovich. The Lenin monument was moved to the center of the square and placed on a high pedestal. Finally, in 2005, the square was the first in the city to gain a fountain complex with lights and music. Today, Ploshchad Lenina is always bustling with people.
| | |
| --- | --- |
| Metro stations: | Ploshchad Lenina |
| Directions: | Exit the metro station directly onto the square |
| What's here? | Finland Station, Monument to Lenin, Fountains on Ploshchad Lenina |
| What's nearby? | Neva River, Liteyny Bridge |