Komsomolskaya Ploshchad (Komsomol Square)
On this perfectly round square is one of the finest residential complexes of late Stalinist neoclassicism. It was built from 1955-1960 by Lenigrad's chief architect, Valentina Kamensky. It consists of three similar semicircular buildings with decorated corner towers. Each floor only has one apartment. These towers could be called real Soviet penthouses. In 1958, to commemorate the 40th anniversary of the Komsomol (The All-Union Leninist Young Communist League, in Russian - Kommunisticheskiy Soyuz Molodyozhi), the area got its name - the Komsomol. Soon after, in the center of the square a bronze statue in honor of the Heroic Komsomol was built.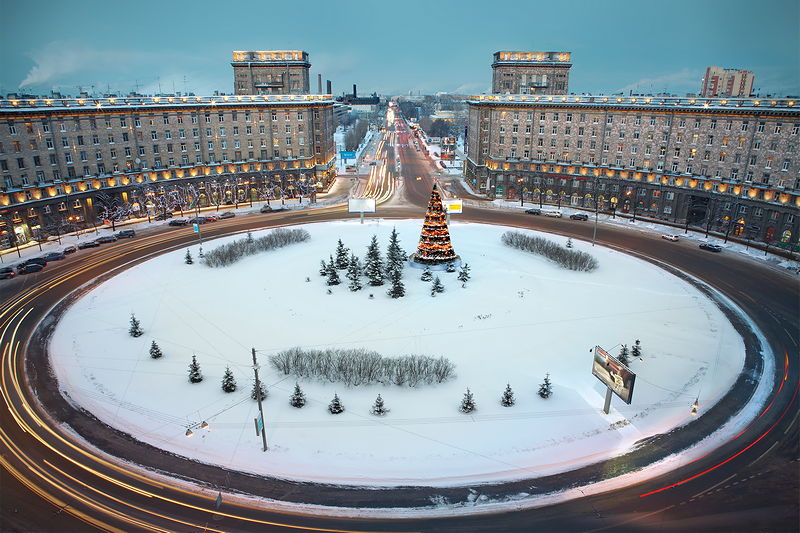 Christmas tree on Komsomolskaya Ploshchad
An interesting chapter in the history of the area was written in 1945. Soviet troops were returning to Leningrad/St. Petersburg after their victory in World War II. The soldiers went down Prospekt Stachek and had to approach the current Komsomolskaya Square. Here, in June 1945, the architect Alexander Gegello quickly built a wooden triumphal arch through which the victorious soldiers would march. In 1946, the plan to rebuild the temporary arch in stone was proposed, but the project was never finished. Today there are proposals to restore the historic triumphal arch.
| | |
| --- | --- |
| Metro stations: | Kirovsky Zavod |
| Directions: | Exit Kirovsky Zavod metro station and walk along Prospekt Stachek to Komsomolskaya Square. |
| What's nearby? | Prospekt Stachek |