Birzhevaya Ploshchad (Exchange Square)
The easternmost part of Vasilievsky Island has long been known as Strelka (the Spit). Laid out in the years 1716-1720 according to the plans of Italian architect Domenico Trezzini, this promontory between two armlets of the Neva River was envisaged as the centre of St. Petersburg, the site of the St. Petersburg Stock Exchange, the city's main trading port facilities and shops with overseas goods.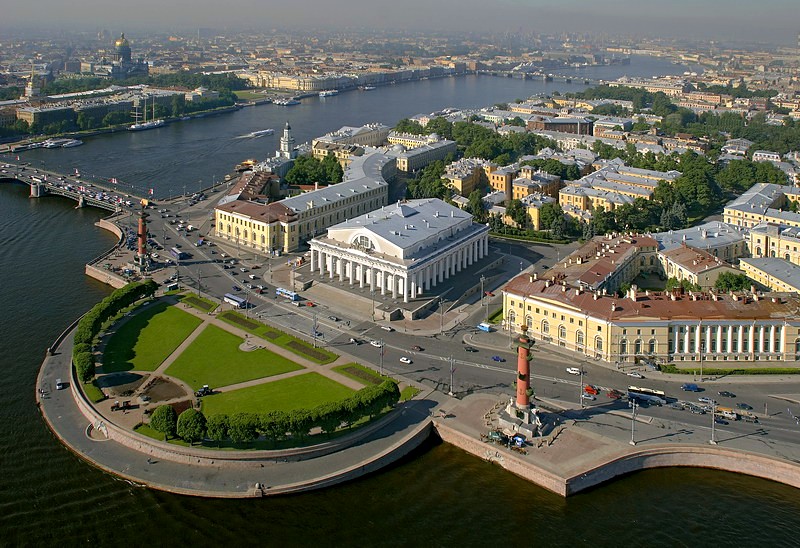 Aerial view of Birzhevaya Ploshchad (Stock Exchange Square)
At the beginning of the 19th century, the French architect Jean-Francois Thomas de Thomon undertook the task of creating a new architectural ensemble in the square. He started by redesigning the Old St. Petersburg Stock Exchange in the style of an ancient Greek temples. In front of the stock exchange were installed the two Rostral Columns with allegorical figures at their bases personifying the major rivers of European Russia: Volga, Dnieper, Neva and Volkhov. The complete ensemble of the square includes the divergent wings of the Stock Exchange and customs warehouses that were built in 1826-1832 by the architect Ivan Lukin. The eastern end of the Spit is framed by the sloping granite embankments of the Neva with large stone balls on pedestals. They say that their creator, a talented self-taught stonemason Samson Sukhanov, carved the balls without using any measuring instruments.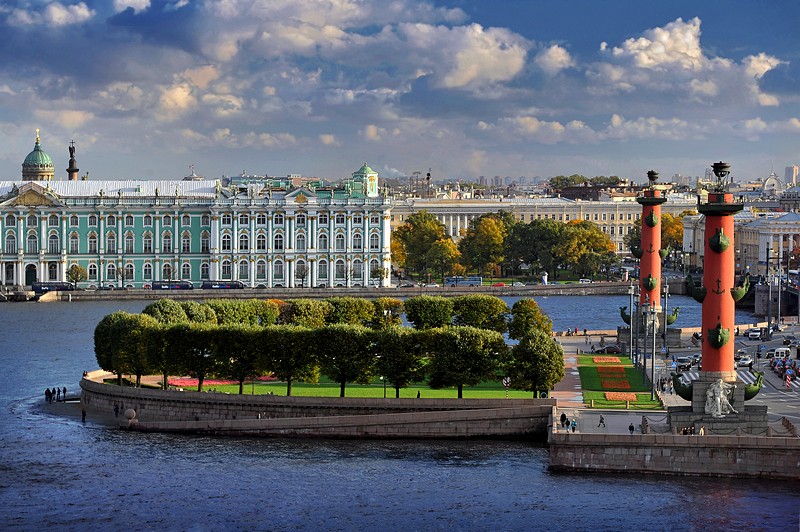 View onto the Winter Palace / Hermitage Museum from Birzhevaya Ploshchad
In 1894, the a fenced garden with benches, sculptures and vases was laid out between Birzhevaya Ploshchad and the river. At the beginning of 20th century, the square was the scene of protests and demonstrations, with speakers using the steps of the Exchange as their podium. In 1920, the park was used as a kitchen garden to help save people from starvation in Petrograd. In 1924, a flood destroyed both the garden and park. The square that exists today was built in 1926 and was designed by the chief architect of Leningrad, Lev Ilyin. The fence of the park has been replaced with granite bollards with chains.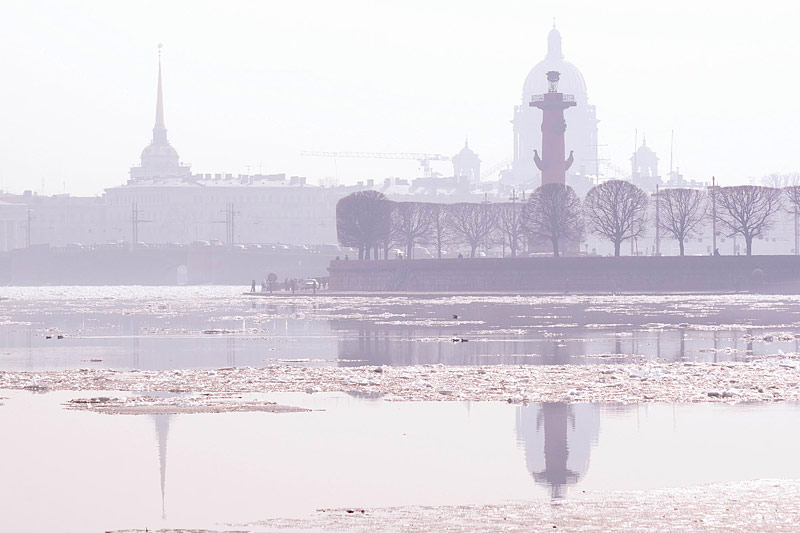 Spit of Vasilevskiy Island at sunrise
In 1937, the square was renamed after Pushkin. In 1960, the Birzhevoy (Exchange) Bridge completed the symmetrical ensemble of the Spit of Vasilievsky Island. Birzhevoy Bridge was constructed to mirror Palace Bridge, and the two have the same dimensions and appearance. In 1989, the square was returned to its historical name. Today it is very popular both with locals and tourists. An essential stop for wedding parties, it also offers the best view of the fireworks over the Neva.
Metro stations:
Vasileostrovskaya, Admiralteyskaya
Directions:
From Admiralteyskaya, turn left out of the metro station, then right and left again onto Nevsky Prospekt. At the end of Nevsky Prospekt bear right across Palace Square to Palace Bridge. Cross the bridge onto Birzhevaya Ploshchad.
From Vasileostrovskaya metro station, turn right along Sredniy Prospekt and continue until you reach the river. Turn right on Naberezhnaya Makarova and continue around 300 m to Birzhevaya Ploshchad.
What's here?
Old Stock Exchange, Rostral Columns, Southern Warehouse / Zoological Museum
What's nearby?
Neva River, Universitetskaya Naberezhnaya (University Embankment), Naberezhnaya Makarova (Makarov Embankment), Palace Bridge, Tuchkov Bridge