Ploshchad Aleksandra Nevskogo (Alexander Nevsky Square)
This square is at the end of Nevsky Prospekt. Almost every tourist visits it because it holds the entrance to one of the main attractions of St. Petersburg - the Alexander Nevsky Monastery. Alexander Nevsky was an outstanding Russian commander in the 12th century who routed the Swedish army on the banks of the Neva River near this location. Because of this, Alexander Nevsky is the patron saint of St. Petersburg and was greatly admired by Tsar Peter I whose idea it was to found a monastery in his honor.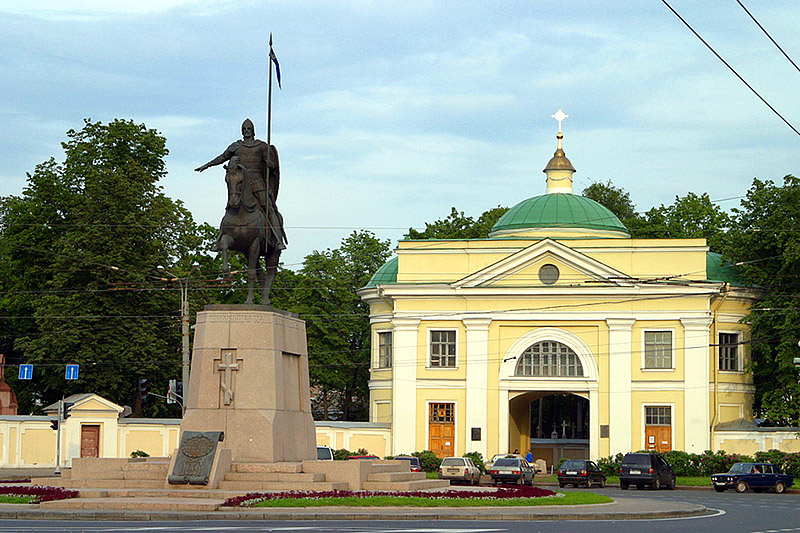 Monument to Prince Alexander Nevsky at the entrance to Alexander Nevsky Monastery
Construction of Alexander Nevsky Square began in front of the monastery in the late 18th century and was designed by Russian architect Ivan Starov, who was also working on the main church of the monastery, the Holy Trinity Cathedral. In the 19th and early 20th century, the square was a very unpleasant place. Tram tracks passed through, and many brick barns stood. Walking on foot here was not recommended.
In 1923, as anti-religious propaganda was spread, the area was renamed Red Square as an analogy to the main square of Moscow. However, in 1952 it regained its original name. With the opening of the Alexander Nevsky Bridge in 1965, the square began to change for the better. The dilapidated barns were demolished and in their place an underground metro and the Hotel Moscow were built. For the 300th anniversary of St. Petersburg, the square unveiled an equestrian statue of Alexander Nevsky. Today this square is both a major traffic intersection and resting site for the many tourists rushing to the museums and churches of the Alexander Nevsky Monastery.
| | |
| --- | --- |
| Metro stations: | Ploschad Alexandra Nevskogo |
| Directions: | Exit Ploschad Alexandra Nevskogo metro station |
| What's here? | Alexander Nevsky Lavra, Monument to Alexander Nevsky |
| What's nearby? | Museum of Urban Sculpture, Alexander Nevsky Bridge, Nevsky Prospekt |
Dining near the Alexander Nevsky Square
RESTAURANTS:
Editors' picks