Zimnyaya Kanavka (Winter Canal)
This tiny canal connecting the Neva River and the Moyka in the area of the Winter Palace has a well-deserved reputation as one of the most romantic and picturesque spots of the city. This atmosphere is created largely by the two symmetrical stone semicircles of the Hermitage gallery and the Hermitage Bridge. Sandwiched on both sides by the Hermitage buildings, the Winter Canal tunnel leads out to the expanses of the Bolshaya Neva.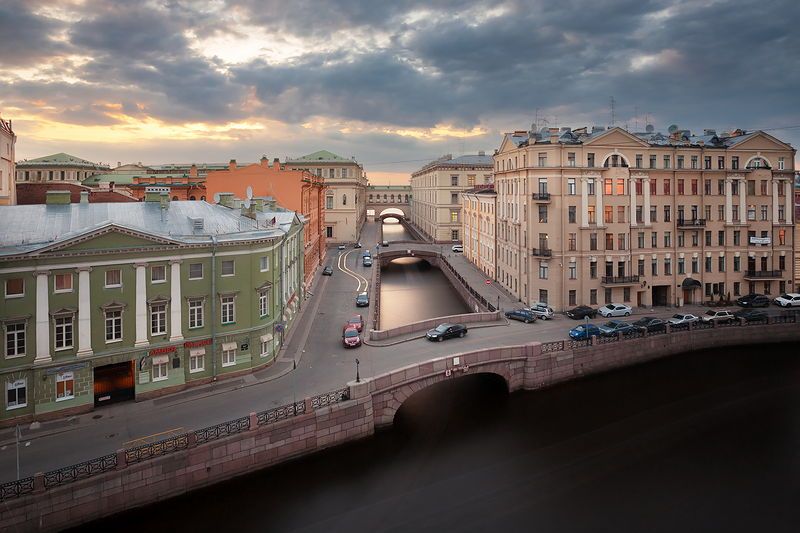 Zimniaya Kanavka (Winter Channel)
This canal was dug in 1719. From 1783-1787 the three-story building of the Hermitage Theater was built on its right bank. The work was undertaken by the eminent architect Giacomo Quarenghi. A high arch bridge was built over the Winter Canal to connect the new building with the Old Hermitage. An urban legend says that many doubted the strength of the bridge, so Catherine the Great arranged a grand feast with a plethora of guests atop the arch to dispel speculation. The Arch Bridge, which had been carefully thought out and designed, withstood the festival and silenced the questions about its fragility.
In 1782-1784, the embankments of the canal were encased in granite and decorated with railings designed by sculptor Josef Franz Dunker. Originally the Winter Canal was called the Postal Embankment since St. Petersburg's main postal department was nearby on Millionaya Ulitsa. At the beginning of the 19th century, the postal yard moved to what is today Pochtamtskaya Ulitsa, and the channel was renamed the Winter Canal.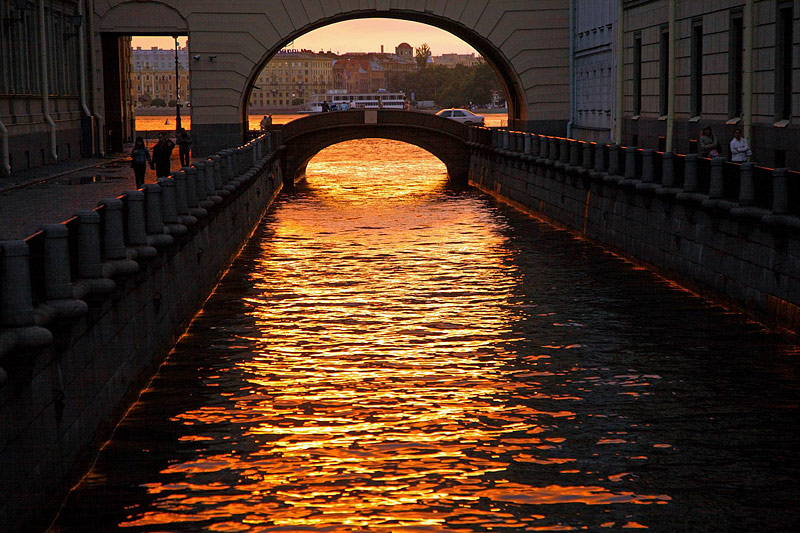 Zimniaya Kanavka and Hermitage Bridge
The Hermitage Bridge, the first stone bridge of St. Petersburg, was built here from 1763-1766. It was lined with granite slabs, and in 1934 the stone arch bridge was replaced with reinforced concrete, perfectly preserving the architectural shapes and granite cladding. From this bridge Lisa, the heroine of Peter Tchaikovsky's opera Queen of Spades throws herself into the water. The composer changed Pushkin's story inspired by a real suicide that occurred at this site in 1868.
There are two other bridges that cross the Winter Canal - the First and Second Winter Bridges. The first was built in 1783 and has remained unchanged since. The second was built in 1964, but was designed to mirror almost exactly the 18th century design.
On the waterfront of the Winter Canal, all the buildings are magnificent: the archive building of the State Council is a monumental Renaissance Revival building designed by the great palace architect Maximilian Messmacher; the eclectic Prince Gagarin House passed through the hands of several prominent citizens prior to the October Revolution; and the beautiful New Hermitage was Russia's first purpose-built art musuem, which includes the famous Raphael Loggia.
Metro stations:
Admiralteyskaya
Characteristics of the river:
Length: 228 m
Width: 20 m
What's here?
Hermitage Bridge, First Winter Bridge, Second Winter Bridge