Smolenka River
This winding river separates Vasilevsky Island and Decembrists Island. It was much shorter previously, but from 1960-1970, the water changed direction and formed a new channel. Now the Smolenka flows directly into the Gulf of Finland. At the mouth of the river a man-made island was created, and there are plans to place an exhibition supervised by the Naval Museum here.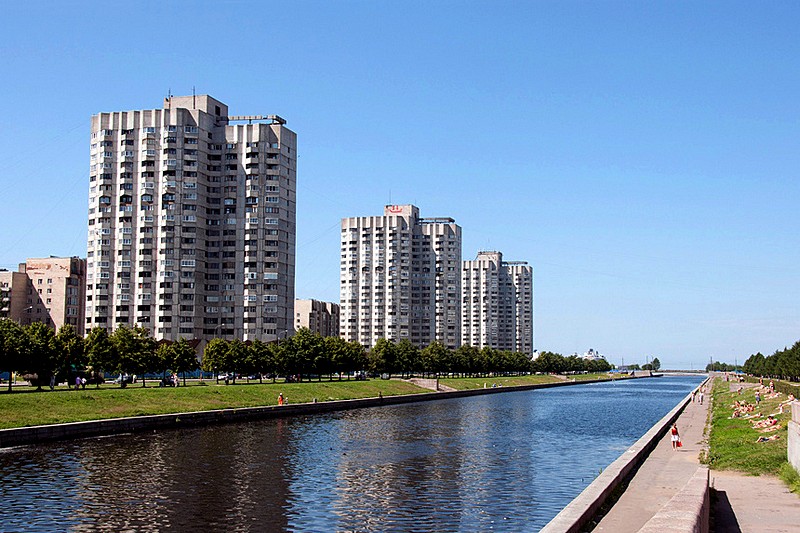 Smolenka River and Novosmolenskaya Embankment
In the 18th century, the Smolenka was called the Myakushaya River. Before the founding of St. Petersburg, a Chukhna village stood on its right bank ("Chukhna" is a term, now derogatory, previously used to the Finns and related ethnic groups living in the area around St. Petersburg). Then came the industrial revolution, and by the second half of the 19th century, most of the river banks were occupied by private enterprises. By the time First World War began, these had been reorganized into large factories.
However, Smolenka is not famous only for it factories. The Smolenskoe Cemetery is located on both sides of the river and is divided into Orthodox, Armenian, and Lutheran Cemeteries, as well as and the "fraternal" graves of those who died during the Siege of Leningrad. The cemetery's oldest church, dating back to 1786, was dedicated to the Theotokos (a type of icon) of Smolensk, and by the mid 19th century the name had spread to the cemetery and to the river that ran through it. Among the many famous people buried here are St. Ksenia of St. Petersburg and the great symbolist poet Alexander Blok.
After the course of the river changed, the broad, straight Novosmolenskaya Embankment was added the banks of the Smolenka River. An artificial, rectangular mouth of the river was conceived to become a part of the Morskaya Embankment recreational area. However, the plan was never implemented, so the area remains empty.
Notable buildings on the river's banks include the Kozitsky Radio Factory with its fine Stalinist neo-classical worker's club, the attractive Art Nouveau Hostel for Workers of the Reichel Optical Factory, and the small Armenian Church of the Holy Resurrection which dates back to 1797 and has recently been restored.
The oldest bridge over the Smolenka is the Uralsky Bridge. It was built with wood in 1829 and was re-built as a modern concrete bridge in 1974. It is decorated with monumental granite pillars adorned with gilded boats tops. A similar bridge, the Nalichny Bridge, is located on Nalichnaya Ulitsa, and decorated with four stylized monumental granite obelisks.
| | |
| --- | --- |
| Metro stations: | Primorskaya |
| Characteristics of the river: | Length: 3.7 kilometers |
| What's here? | Uralsky Bridge, Smolensky Bridge, Novo-Andreisky Bridge, Nalichny Bridge |