Okhta River
The Okhta is the largest tributary of the Neva River and has a rich history that dates back long before the founding of St. Petersburg. At the mouth of Okhta several successive ancient settlements and fortresses have been unearthed, which gave rise to the site being referred to as "St. Petersburg's Troy." Sites along the Okhta and its tributaries in the city include both popular green areas and industrial zones.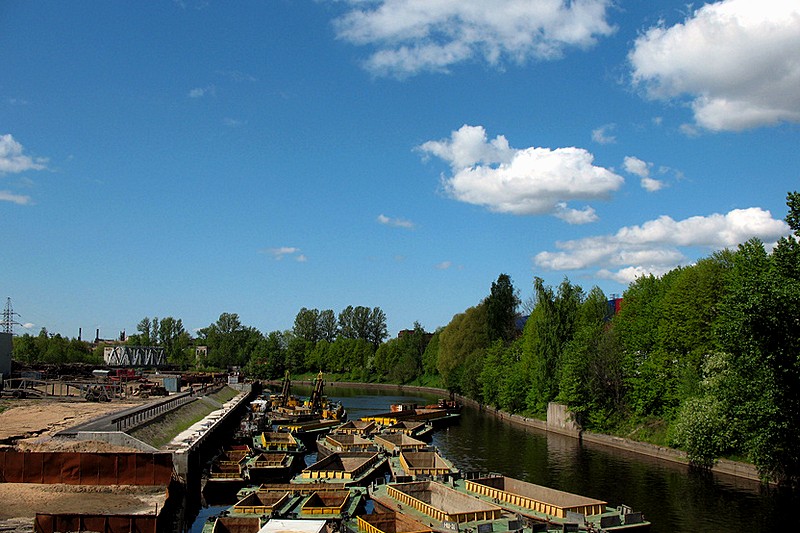 Empty barges on the Okhta River
People have been settled on the territories along the banks of the Okhta since the Stone Age. In 1300, at the mouth of the river, the Swedes built the Landskrona Fortress, a wooden structure on top of a large motte. It was a very powerful defensive building with eight towers, ramparts, and a moat. Despite this, Landskrona was taken and burned by the armies of Novgorod the following year. Settlements were soon established hear again, however, as it was the nearest area to the Gulf of Finland that did not suffer regular flooding.
In 1611, the stone Nienschanz Fortress was erected by the Swedes on the left bank of the Okhta at the site of Landskrona. The Nienschanz Fortress was built with considerable fortifications for the period, in a star shape with five bastions, two curtain walls, and two kronverks. Under its protection, the settlement of Nien developed on the opposite bank of the river and soon grew to become an independent city. Its inhabitants rapidly amassed considerable wealth and built many mansions on the shores and islands of the Neva. One of these estates, that of Swedish Major Erich von Berndt Kono was famous for its summer garden. However, during the Northern War in the early 18th century, the fortress and the Swedish city were taken by the Russian Tsar Peter the Great, founder of St. Petersburg. These ultimately ineffective fortifications were eventually demolished. Today, a detailed history of the 700 years prior to the founding of St. Petersburg can be explored in the Nienschanz Museum located at 6, Angliyskaya Naberezhnaya. Archaeological excavations by the Okhta continue to this day.
Several notable tributaries run into the Okhta: The Okkervil, named a Swedish manor that was still standing here at the end of the 16th century; the Lubya, which was the site of a mill in the 17th century; and Murinsky Creek, which flows through a long strip of parkland on the northern outskirts of the city. The Okhta and its tributaries are traversed by a total of forty-five bridges, almost all of which were built in the second half of the 20th century. Also on the Okhta is the Okhta Dam, which was originally built in 1716 to create the Okhta Reservoir for the supply of fresh water to the city. The dam and its waterworks are currently in chronic need of renovation, and the polluted waters of the reservoir are only used for industrial purposes.
Metro stations:
Ladozhskaya
Characteristics of the river:
Length: 99 km
Width: up to 60 m
Maximum depth: 5.5 m
What's here?
Belyaevsky Bridge, Kapsulny Bridge, Okhtinskaya Dam (Communards Dam), Bolshoy Ilinsky Bridge, Armashevsky Bridge, Industrialny Bridge
Dining near the Okhta River
RESTAURANTS:
Editors' picks