Lebyazhya Kanavka (Swan Canal)
Swan Canal separates two of St. Petersburg's most famous green spaces - the Field of Mars and the Summer Garden. It is one of the oldest canals in Russia, dug in the years 1711-1719. It also boasts one of the oldest stone bridges in the city, which was created by the famous architect Yury Felten.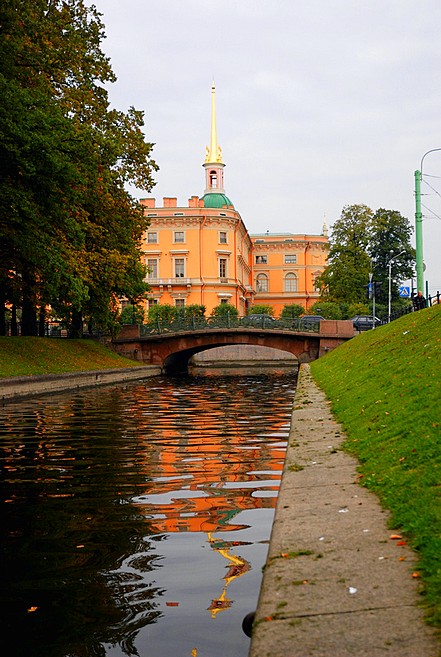 Lebiazhya Kanavka (Swan Channel) leading towards Mikhailovsky (Engineer's) Castle
At the beginning of the 18th century, the vast territory where the Field of Mars and the Summer Garden are located now was a marshland covered with impenetrable bush. To drain it, it was necessary to create a system of canals. One of these eventually became the Swan Canal. It was named only later, when swans began to settle there. This canal connected the Moyka River with the Neva and thus created the island which is occupied by the Summer Garden. Throughout the 18th century, the Swan Canal was continuously deepened and strengthened, but granite supports fixing the banks of the canal were only attached in the middle of the 20th century.
A pier on the canal was built in 1799. Decorating the pier were iron vases created by the prominent St. Petersburg architect Carlo Rossi. Two single-span bridges cross the Swan Canal: the Verkhniy Lebyazhy (Upper Swan) Bridge on the Palace Embankment and the Nizhniy Lebyazhy (Lower Swan) Bridge at the confluence with the Moyka River. The first was built in stone in 1768 and was replaced in 1927 with reinforced concrete, preserving the original form and granite cladding. The second bridge was built in 1837 and rebuilt in 1925. Today you can admire this bridge's beautiful latticework, also designed by Rossi.
On the right bank of Swan Canal near Palace Embankment stands the former palace of the Prince of Oldenburg. The palace currently houses the St. Petersburg State University of Culture and Arts. It was built in 1784-1787 by the French neoclassical architect Jean-Baptiste Vallin de la Mothe. Today small pleasure boats cruise along the beautiful Swan Canal.
| | |
| --- | --- |
| Metro stations: | Gostiny Dvor |
| Characteristics of the river: | Length 648 meters |
| What's here? | Verkhne-Lebyazhny (Upper Swan) Bridge, Nizhny Lebyazhy (Lower Swan) Bridge |