Catherine Park
The Catherine Park, like most of the parks around the Imperial palaces, features both a formal garden and a landscape park. The Formal Park, which is directly behind the Catherine Palace, was laid out during the reign of Empress Elizabeth by a team of architects supervised by Rastrelli. Characterized by the rigid symmetry of its alleys and box hedges, the garden is well maintained, although its most interesting structures - the Upper and Lower Baths and the ruined Hermitage Pavilion - are not currently open to visitors.
The English Park, which runs to the south of the Cameron Gallery, was laid out by the English-trained Johann Busch - who became Charles Cameron's father-in-law - in the 1770s. Centered on the meandering Great Pond, the rolling park has a extremely varied range of beautiful buildings and monuments, with highlights including the Dutch-style boathouses known as the Admiralty, the dinky Baroque Grotto, and the charming Marble Bridge, modeled on similar bridges by Palladio at Stowe and Wilton in England. At the centre of the Great Pond there is a small island that can be reached by ferry, on which there is a hall that was once used for concerts, and next to which stands the Chesma Column, a white version of the Rostral Columns in St. Petersburg and one of numerous memorials to Russia's decisive naval victory over the Tuirks at Chesma Bay.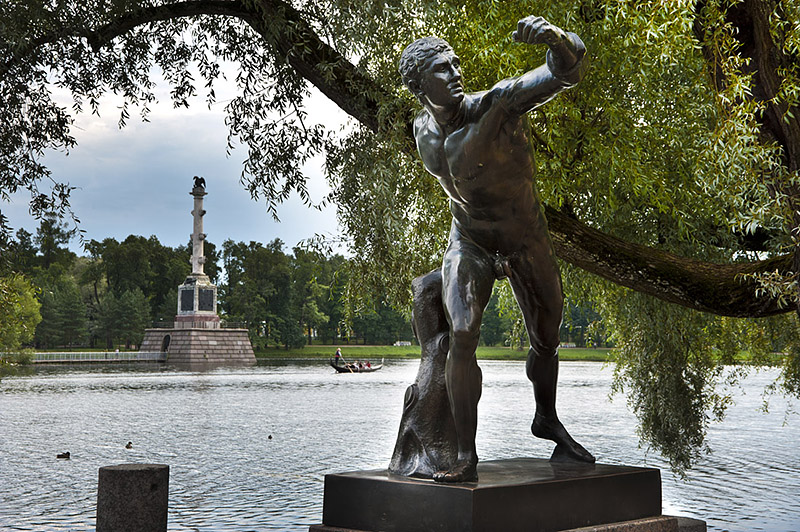 Sculptures and the Chesme Column in Catherine Park
To the west of the Great Pond lies the area of the Catherine Park known as the Italian Park. This section has a number of picturesque buildings, including Yuri Felten's Chinese Pavilion, a colourful pagoda-like folly completed in 1786, and the imposing Granite Terrace, designed by Luigi Ruska, with large electroplated copies of classical statues.
| | |
| --- | --- |
| Open: | Daily, 7.00-23.00 (May 1 through Jul 31), 7.00-22.00 (Aug 1-30), 7.00-21.00 (Sep 1 through Apr 30). |
| Admission: | Adults - RUB 120, Students (with ID), Schoolchildren above 16 - RUB 60, Visitors under 16 - free (Ticketed admission 10.00-19.00 from April 27 through October 20. Keep your park ticket - you will need it at Catherine Palace's ticket offices!). Park fee currently includes admission to: Grotto, Maids of Honour Garden, Hanging Garden. |
| Photo and video: | Free/Included |
| Accessibility note: | The Catherine Park is wheelchair accessible |