Catherine Palace
The Catherine Palace is named after Catherine I, the wife of Peter the Great, who ruled Russia for two years after her husband's death. Originally a modest two-storey building commissioned by Peter for Catherine in 1717, the Catherine Palace owes its awesome grandeur to their daughter, Empress Elizabeth, who chose Tsarskoe Selo as her chief summer residence. Starting in 1743, the building was reconstructed by four different architects, before Bartholomeo Rastrelli, Chief Architect of the Imperial Court, was instructed to completely redesign the building on a scale to rival Versailles.
The resultant palace, completed in 1756, is nearly 1km in circumference, with elaborately decorated blue-and-white facades featuring gilded atlantes, caryatids and pilasters designed by German sculptor Johann Franz Dunker, who also worked with Rastrelli on the palace's original interiors. In Elizabeth's reign it took over 100kg of gold to decorate the palace exteriors, an excess that was deplored by Catherine the Great when she discovered the state and private funds that had been lavished on the building.
The interiors of the Catherine Palace are no less spectacular. The so-called Golden Enfilade of state rooms, designed by Rastrelli, is particularly renowned and forms the focus of the palace tour. Guests enter via the State Staircase which, although it blends effortlessly with the rococo grandeur of Rastrelli's interiors, in fact dates from the 1860s. With its ornate banisters and reclining marble cupids, it gives a taste of what is to come. The Great Hall, also known as the Hall of Light, measures nearly 1,000 square meters, and occupies the full width of the palace so that there are superb views on either side. The large arched windows provide enough light to relieve the vast quantity of gilded stucco decorating the walls, and the entire ceiling is covered by a monumental fresco entitled The Triumph of Russia. Using similar techniques but on a smaller scale, the White Dining Room is equally luxurious but, like many of the rooms in the palace, its grandeur is softened by the presence of a beautiful traditional blue-and-white tiled stove in the corner.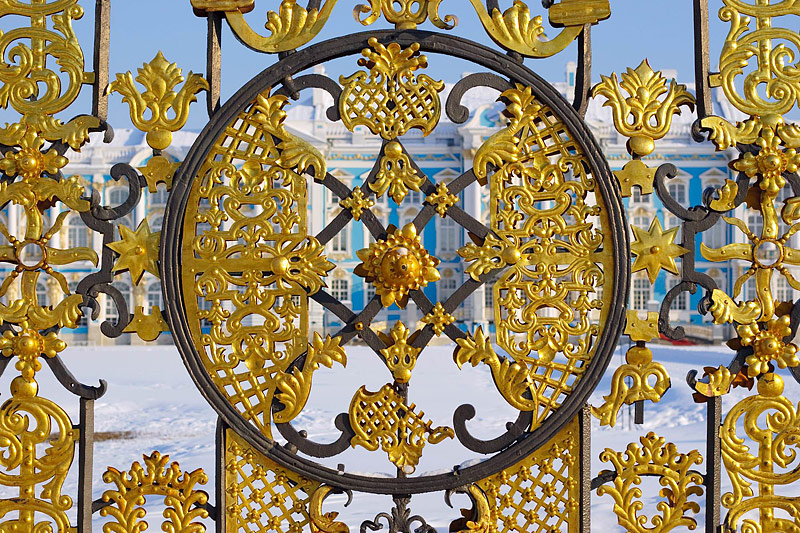 Fence of the palace with gilded details in Tsarskoye Selo
Other highlights of the Grand Enfilade include the Portrait Hall, which contains remarkably good portraits of both Catherine and Elizabeth, the Picture Gallery, in which almost every inch of wall space is covered with paneling comprising 17th and 18th century canvases and, of course, the legendary Amber Room.
To create this extraordinary chamber, Rastrelli used the panels of amber mosaic originally destined for an Amber Cabinet at Konigsberg Castle and presented to Peter the Great by Friedrich-Wilhelm I of Prussia, and surrounded them with gilded carving, mirrors, more amber panels created by Florentine and Russian craftsman (comprising a total of 450kg of amber), and further mosaics of Ural and Caucasus gemstones. The room was completed in 1770. Due to the fragility of the materials used, a caretaker was employed constantly to maintain and repair the decorations, and major restoration was undertaken three times in the 19th century. The room was used to house a substantial collection of amber-work and Chinese porcelain. In 1941, when German troops took Tsarskoe Selo, the Amber Room was dismantled in 36 hours, and shipped to Konigsberg in a tawdry pretence at historical fidelity. As the Nazi war machine crumbled, the panels were crated up and moved out of danger, but their eventual fate is unknown.
In 1982, the order was given to begin the recreation of the Amber Room, a process that took over 20 years and cost more than $12 million. Opened in 2003 by President Vladimir Putin and Chancellor Gerhard Schroeder, the restored Amber Room is a truly unique monument, and a testament to the painstaking care of the craftsmen who worked on it.
Further on in the Catherine Palace, the most noteworthy interiors are those in the so-called Cameron Rooms, the suites decorated in the reign of Catherine the Great by her favourite architect, Charles Cameron. His penchant for classical symmetry and his superb taste for colour are evident in the charming Green Dining Room, originally fitted for Catherine's son Paul, and the delightful Blue Drawing Room, with its blue-and-white painted-silk wallpaper and superb painted ceiling. More flamboyant but equally charming, the Chinese Blue Drawing Room also boasts exquisite painted-silk wallpaper featuring intricate Chinese landscapes.
Thanks above all to the Amber Room, the Catherine Palace is one of St. Petersburg's most popular visitor attractions, and queues in the summer months can be daunting. All visitors are obliged to follow a guided tour, which is in Russian unless otherwise arranged in advance.
Open:
May & Sep: Wed to Sun 12.00-17.00.
Jun - Aug: Wed to Sun 12.00-19.00; Mondays: 12.00-20.00. Closed: Tuesdays.
October through late April entry hours: 10.00-17.00 Wednesday to Sunday, 10.00-20.00 on working Mondays. Closed on Tuesdays and the last Monday of each month.
Entry hours for individual visitors during national and school holidays: 12.00-17.00 (12.00-20.00 on Mondays). All other times are reserved for organized groups.
Palace tickets include Catherine Park entrance fee and are available from 10.00 only at two entrances to Catherine Park (Main Entrance near Lyceum and Hermitage Kitchen). Daily quantity of tickets is limited.
Admission:
13.00-16.00: Adults - RUB 720; Students (with ID), Schoolchildren above 16 - RUB 360; Visitors under 16 - free. 12.00-12.40 & 16.20-18.40 (Mondays 16.20-19.40): Adults - RUB 520; Students (with ID), Schoolchildren above 16 - RUB 260; Visitors under 16 - free.
Audio-guide (English, French, German, Chinese): RUB 150.00.
Individual Guided Tour - RUB 5,000: admission includes park fee, escort to palace via VIP Room, guided tour in English.
Photo and video:
Included
Accessibility note:
The Catherine Palace is wheelchair accessible - a special elevator/lift was installed. Please call in advance as staff assistance may be required.