Cameron Gallery
Charles Cameron was an architect and interior designer of Scots origin, who came to Russia in 1779 at the behest of Catherine the Great, and established himself as one of the Empress's favourite designers, working at Tsarskoe Selo for over fifteen years. Little is known of the half-century of his life before that date, except that in 1772 he published a scientific tract on the architecture of Roman baths, which is presumably what first attracted Catherine's attention.
Catherine's modish interest in all things classical led her to invite Cameron to St. Petersburg to build a Roman bathhouse next to the Catherine Palace. Cameron's design for the baths was based on measurements taken by Palladio from the ruins of the Constantine Baths in Rome. The modestly sized two-storey building that he housed them in has a simple but effective design that works on the contrast between the monumental slabs of rough-hewn Pudost travertine that cover the lower storey and the delicate classical decorations of the upper floor. Inside, there is nothing left of the original bathhouse and the lower chambers are now used for temporary exhibitions. The upper storey, however, contains what are probably Cameron's finest interior designs, known collectively as the Agate Rooms. These spectacular rooms are literally covered in Russian semi-precious stones, including agate, jasper, malachite, lapis lazuli, and alabaster. The Great Hall at the center of the suite is particularly fine, with a wonderfully intricate bronze coffered ceiling above pale-pink artificial marble walls, elegant malachite pillars, and an abundance of classical statuary. Restoration is still on-going in some of the Agate Rooms, but there is already plenty to see.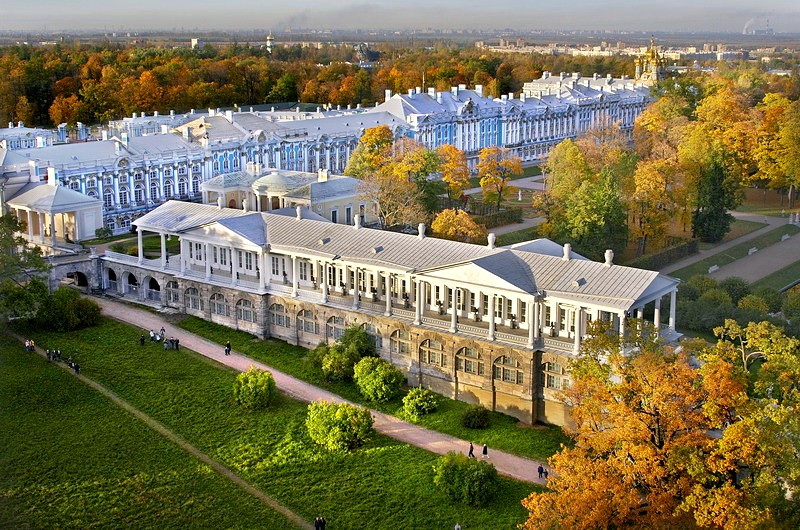 Aerial view of the Cameron Gallery in Tsarskoye Selo
Cameron's next job for Catherine was the adjacent Cameron Gallery, the most prominent of his creations at Tsarskoe Selo, and the one which proved he was as talented an architect as an interior designer. Catherine instructed Cameron to create a colonnade for strolling and philosophical discussion, and the result was this supremely elegant building that stands perpendicular to the east wing of the Catherine Palace. Designed to offer the best possible views over the surrounding park, and especially the Great Pond, the upper storey of the building is surrounded by a colonnade consisting of 44 slender ionic columns and decorated with bronze busts of the great figures of antiquity. Approached by a magnificent staircase from the northern end, the Gallery is now used to house temporary exhibitions.
Opening Hours: Open Summer, daily from 10am to 8pm. Free admission with park ticket